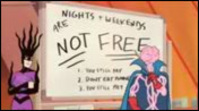 Is Your Cell Phone Company Evil?
Irvine, CA (PRWEB) January 30, 2008
Irvine, CA January 30, 2008 -- "Is Your Cell Phone Company Evil?" asks fastest growing cell phone company NET10 in potential Super Bowl ads at http://www.net10-biggame.com!
NET10 has engaged Contest Factory to launch a contest (http://www.net10-biggame.com) to determine which ad in its provocative new "No Evil" ad campaign consumers would choose to run during the Super Bowl.
The NET10 ads grew out of research that shows that many cell phone customers hate their cell providers and feel trapped by onerous contracts and cancellation and overage fees. By contrast, NET10 has no bills, no contracts and "no evil."
Two NET10 ad campaigns are vying for big game honors. One ("Heroes") features documentary-style stories about good people doing good works who are hampered in their efforts by their cell phone companies. The other ("Villains") features the animated members of the League of Evil wishing they could be as evil as the cell phone companies! The ads were created by 2007 Agency of the Year, Droga5, and have won recognition from ad critics as both hilarious and highly effective.
Visitors are asked to vote for one of 11 commercials as the one that should be featured, and voters get a chance to win a $10,000 prize. Thousands have already cast votes as the excitement surrounding Super Bowl ads builds to almost equal that of the game itself.
Meanwhile, NET10 is awaiting clearance of the ads it has submitted to Fox, and a final decision on whether it will run during the game is also pending completion of the consumer contest.
Contest Factory (http://www.ContestFactory.com) is a subsidiary of Opus One Corporation.
NET10 (http://www.net10.com) is a prepaid wireless service offering all local, long distance and roaming calls at one low price of 10 cents per minute. All NET10 prepaid wireless service is provided by TracFone Wireless, Inc, America's #1 prepaid wireless company. There are no contracts, credit checks, monthly fees, security deposits, activation or deactivation charges, or age restrictions.
TracFone Wireless is a subsidiary of América Móvil (NYSE: AMX, NASDAQ: AMOV), 4th largest mobile phone provider worldwide, with more than 141 Million wireless subscribers across the Americas.
###