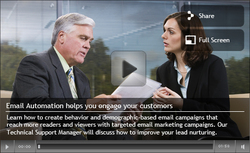 Cantaloupe offers one of the easiest and most versatile hosting platforms for email users
Salem, MA (Vocus) December 17, 2009
Email service provider Net Atlantic, Inc. has just announced a strategic partnership with Cantaloupe.TV, LLC, an online video services and software company headquartered in Indianapolis, IN. The companies plan to offer a combined solution for email marketing users to use and manage video in their email marketing campaigns more effectively and easily.
"Cantaloupe offers one of the easiest and most versatile hosting platforms for email users," explains William Reich, President of Net Atlantic. "It is easy to integrate into our email marketing application, allowing our customers to increase engagement with their customer by using dynamic content."
Cantaloupe offers a software platform that takes the guesswork out of online video marketing by making it easier to integrate video with email campaigns, websites, blogs, and social networking sites. Net Atlantic's email marketing campaigns can now include video play buttons that link to videos stored within a video library. Further, email administrators will be able to track how many email recipients went to their video and viewed it.
"Net Atlantic's email marketing platform is a natural fit for our video management tool," says Stacy Billanti, Cantaloupe's President. "The email sender will be able to point and click to embed video play buttons into their email campaigns, track video activity right inside the Net Atlantic interface, as well as manage video through a library feature."
Net Atlantic and Cantaloupe plan to release an integration of email marketing and video management in January 2010.
About Cantaloupe.TV, LLC
Cantaloupe.TV offers a comprehensive, A-to-Z solution for marketing with video on the internet. The Cantaloupe video team specializes in producing authentic web video stories for one-to-one marketing and has sent video crews across the globe helping their clients tell their stories. Cantaloupe's online video software platforms are easy-to-use and powerful tools which allow marketers to integrate video into websites, blogs, and email marketing and social media. Founded in 2005, Cantaloupe.TV is a privately held company with headquarters in Indianapolis, IN. Cantaloupe services a broad set of industries globally. For media inquires, contact Diana Caldwell at 317-490-051. To learn more, visit http://www.videohere.com.
About Net Atlantic, Inc.
Established in 1995, Net Atlantic was one of the first email service providers and Web site hosting companies. Net Atlantic's goal is to help businesses and non-profit organizations succeed online with effective email marketing services and Internet tools. To learn more, visit http://www.netatlantic.com or call 978-219-1900.
Copyright © 2009 Net Atlantic, Inc.
# # #