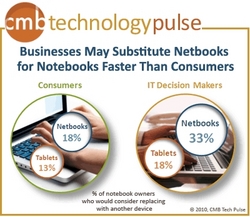 Netbooks entered the market with a consumer hat on, but now we are seeing more of an opportunity for netbooks to gain market share in the B2B market
Boston, MA (Vocus) June 23, 2010
Chadwick Martin Bailey's most recent tech pulse, a market research study among over 200 IT decision makers about business device substitution plans, found that IT departments are more open to substituting computing form factors for one another than consumers. Over half of IT buyers are open to some type of substitution of their company's current notebook fleet during the next buying cycle, most commonly for netbooks (33%). It's a different story for consumers, only 18% of consumer notebook users will switch to a netbook and 13% to a tablet.
"Netbooks entered the market with a consumer hat on, but now we are seeing more of an opportunity for netbooks to gain market share in the B2B market," comments Don Ryan, managing director of Chadwick Martin Bailey's Technology practice. "Tablets like the iPad will cut into the consumer share of netbook sales, but we're seeing notable interest among IT departments for ongoing B2B netbook purchases," continues Ryan.
IT departments' interest in netbooks is driven more by low price points than it is by improved mobility of the form factor vis-à-vis notebooks. For extreme mobility, many mobile employees are already equipped with smartphones and this device form factor has the least likelihood of being replaced with anything else for the most common mobile business applications like email, IM, calendaring, web surfing and—let us not forget—phone calls. The typical mobile employee will likely remain a "smartphone + 1" creature for the immediate future.
About the CMB Tech Pulse
Each quarter the technology practice reaches out to its own IT decision maker panel of over 13,000 members to get a pulse on the current issues in the marketplace. This CMB Tech Pulse study was self-funded by Chadwick Martin Bailey's Technology practice. The responses from over 200 IT decision makers were collected in April 2010. Get the latest CMB Tech Pulse news on the technology blog.
About Chadwick Martin Bailey
Chadwick Martin Bailey is a custom market research and consulting firm who works with many of the most successful companies and best known brands in the world to help them acquire, maintain, and grow their customer base. They have recently been listed on the Honomichl Top 50 and continue to demonstrate their thought leadership at numerous conferences worldwide. Founded in 1984 by John Martin and Anne Bailey Berman, the company has corporate headquarters in Boston, Massachusetts, serving clients in more than 30 countries around the globe. Chadwick Martin Bailey focuses on using leading-edge research techniques to collect and translate the data into simple, business decision-focused deliverables. http://www.cmbinfo.com
###