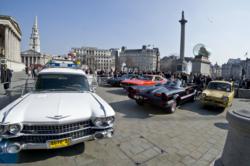 Most companies launch their offering by using celebrity personalities but our whole business model is very different - the cars are the stars.
(PRWEB UK) 16 March 2011
KITT, the talking supercar from 1980s TV series Knight Rider, has been voted the most popular TV car of all time.
The black Pontiac Trans Am, driven by Michael Knight, played by Britain's Got Talent judge David Hasselhoff, received 35 per cent of the nation's votes.
Del Boy's yellow Robin Reliant from Only Fools and Horses came in second with 21 per cent and third favourite TV car was the Batmobile, with 20 per cent of the vote.
The General Lee, from TV show The Dukes of Hazard, came fourth with 11 per cent, followed by the classic Jag from Inspector Morse which won 8 per cent of votes.
Louis Rix, marketing director from netcars.com, said: "With such an amazing history of popular TV cars we were intrigued as to who the public would pick as the number one but let's be honest, who didn't want a car like KITT? Fast, cool and filled with a wonderful array of gizmos and gadgets it was – and still is for many people - the dream car.
"The series ended 25 years ago this year but people still remember KITT with so much affection, there will never be another car like it. But the great British public also loves a good underdog and that explains why so many people voted for Del Boy's three-wheel Robin Reliant; it's at the opposite end of the car scale to KITT but loved just as much."
In response to the survey findings - and as part of the launch of Netcars.com – the company hosted a 'celebrity car convoy' through the capital, passing many of London's most iconic buildings, including Big Ben and Buckingham Palace.
Louis added: "Most companies launch their offering by using celebrity personalities but our whole business model is very different - the cars are the stars. So it only seemed natural to launch with some of the most iconic celebrity cars of all time, including among others KITT, the Batmobile and Del Boy's three-wheel Robin Reliant."
As a used car classified website, Netcars.com offers motorists the opportunity to search for their ideal next car and also put their current vehicle up for sale for a flat fee of £15. The car then stays on the site until it is sold; a completely new way of selling compared with existing formats, which demands payment on a bi-weekly or monthly basis to keep a car advertised online.
The website's additional Car Advisor function also allows motorists to leave reviews of models they have previously driven and ask other reviewers questions or advice about future purchases.
The top five TV cars of all time
1. KITT
2. Del Boy's Robin Reliant
3. Batmobile
4. The General Lee
5. Inspector Morse's Jag
For more information please contact:
Rachael Ireland or Becky Roberts at Tangerine PR
T: 0161 817 6600
E: rachael(dot)ireland(at)tangerinepr(dot)com or becky(dot)roberts(at)tangerinepr(dot)com
Editors' Notes
The talking supercar KITT - which stood for Knight Industries Two Thousand - was famed for its turbo boost mode allowing it to leap over obstacles at 300mph.
# # #