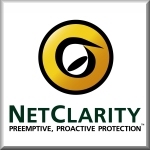 Bedford, MA and Milwaukee, WI (PRWEB) October 18, 2012
NetClarity, Inc., the leading provider of integrated internal security solutions for mid-sized businesses, will be at the Data Connectors Tech-Security Conference in Milwaukee, Wisconsin on October 18th, 2012.
The Milwaukee Tech-Security Conference features 25-30 vendor exhibits and several industry experts discussing current tech-security issues such as email security, VoIP, LAN security, wireless security, USB drives security & more. There will be giveaways and prizes such as iPods, $25, $50 and $100 gift cards, as well as cash prizes and lots more. The Milwaukee Tech-Security Conference will be held at the Hilton Milwaukee City Center.
Please stop by the NetClarity booth to learn more about the NACwall family of appliances, which help protect customers' internal networks. There will also be a live demonstration of the NetClarity NACwall appliances and RISKprofiler tool, so you can see firsthand how NetClarity can help you solve the BYOD dilemma, guest networking problems, control the threats to your network, and much more.
About NetClarity, Inc.
NetClarity is privately-held and is the leading of integrated internal security solutions today, serving the mid-size market. Our passion to deliver the world's easiest-to use, fastest, most powerful, and cost effective NAC technology, which in turn fuels our growth through strong market demand. NetClarity's NACwall appliances, leveraging the company's groundbreaking and patented Inside-Out Network Security™ technology, provide the most proactive approach to internal intrusion defense in the entire industry. NetClarity is headquartered in Bedford, MA with offices and partners throughout the world. For more information, visit us at http://www.netclarity.net
About Data Connectors Tech Security Conferences
Data Connectors' Tech Security Conferences focus on the latest tech security products and services such as email security, wireless security, network and infrastructure security, compliance, cloud computing, VoIP and networking. Our informative speaker sessions and sponsor exhibits help you keep up with the ever changing Information Security industry. So if you are an IT professional trying to secure your network or simply trying to keep up with the latest technologies, you've come to the right place!