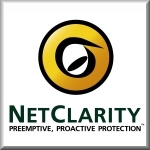 All too often security and convenience play on opposite teams. NetClarity delivers the best of both worlds.
Bedford, MA (PRWEB) September 14, 2012
NetClarity, Inc., the leading provider of integrated internal security solutions for mid-market businesses, today announced hiring Mr. Jason Orgill to lead product management and business development. Mr. Orgill will be responsible for product and technology strategy, business development, managing strategic product relationships, and identifying new technologies to be integrated into NetClarity's product suite.
"I am pleased to have someone of Jason's caliber leading our business development and technology strategy efforts," says Hal Charnley, CEO, NetClarity. "Jason possesses a unique combination of both technology and business skills, which will prove invaluable as we continue to grow our business."
Prior to joining he was a senior fellow at Harvard Business School think tank, The Forum for Growth and Innovation, where he worked with to further develop and disseminate the theories of disruptive innovations. Mr. Orgill co-founded a disruptive telecom startup, netBlazr, which has won awards from several competitions including MITX, MassChallenge, and MIT100K, and where he also designed and implemented the network and security architecture. He is a SANS-certified Global Information Assurance auditor, and was a security consultant at Motorola, with major engagements in Bahrain, India, and with U.S. Fortune 500 companies. As the subject matter expert on the team in 802.11 security, he was the inventor of a patent-pending wireless attack detection method. Mr. Orgill received a BS in Electrical Engineering at Brigham Young University. He also received an MBA from the Harvard Business School where he was a Rock Fellow.
"All too often security and convenience play on opposite teams. NetClarity has developed a way to deliver the best of both worlds to the marketplace," says Jason Orgill, Director, Product Management and Business Development. "For CIOs and network administrators, it's internal security without the headache."
About NetClarity, Inc.
NetClarity is privately-held and is the leading provider of integrated internal security solutions today, serving mid-market businesses. Our passion to deliver the world's easiest-to use, fastest, most powerful, and cost effective NAC technology, which in turn fuels our growth through strong market demand. NetClarity's NACwall appliances, leveraging the company's groundbreaking and patented Inside-Out Network Security™ technology, provide the most proactive approach to internal intrusion defense in the entire industry. NetClarity is headquartered in Bedford, MA with offices and partners throughout the world. For more information, visit us at http://www.netclarity.net.