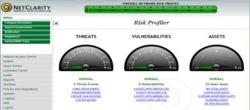 Bedford, MA and Mission Viejo, CA (PRWEB) December 13, 2012
NetClarity, Inc., the leading provider of integrated internal security solutions for mid-market businesses, today announced that they have signed an agreement with Southern California-based Value Added Reseller (VAR), Altaware, Inc. to resell their award-winning NACwall security appliances. This partnership gives Altaware, Inc.'s customers access to NetClarity's holistic internal security solutions, the NACwall family of appliances, to effectively protect businesses from internal attacks on networks containing from 10 to 25,000 devices.
With Bring Your Own Device (BYOD) and guest networking trends on the rise, it is no surprise that companies are looking for internal security solutions that include network access control, vulnerability auditing, asset discovery and analysis, malware protection, and compliance reporting all in one device to help protect customers' sensitive data and assets. For more on this Bring Your Own Device trend, read this whitepaper: http://blog.netclarity.net/netclaritys-byod-whitepaper-request
Implementing NetClarity's integrated internal security solution through Altaware, Inc. offers the following benefits:

Professional on-site Sales and Engineering support
Lowest initial investment costs for NAC equipment in the industry
Secure control of all appliances through a built-in command center that is included with all Enterprise units at no extra charge
Ability to deploy internal network security solutions in less than an hour, per site
Interoperability on all existing networking environments, devices, and operating systems
The most powerful security model for managing internal risk and regulatory compliance
"We are very excited to be partnering with Altaware, Inc.," said Hal Charnley, President/CEO of NetClarity. "Altaware, Inc. is a Value Added Reseller who brings decades of depth and talent in the IT security and networking space, and our NACwall family of appliances will be a great addition to their solution portfolio."
About NetClarity, Inc.
NetClarity is privately-held and is the leading provider of integrated internal security solutions today, serving mid-market businesses. Our passion to deliver the world's easiest-to use, fastest, most powerful, and cost effective NAC technology, which in turn fuels our growth through strong market demand. NetClarity's NACwall appliances, leveraging the company's groundbreaking and patented Inside-Out Network Security™ technology, provide the most proactive approach to internal intrusion defense in the entire industry. NetClarity is headquartered in Bedford, MA with offices and partners throughout the world. For more information, visit us at http://www.netclarity.net
About Altaware
Altaware, Inc. was created in 1999, initially serving the greater Southern California area with sales and technical staff. Altaware, Inc. has customers across the United States and serves customers with offices across the world, exporting products and using local service contracts as needed. Altaware, Inc. is a security focused Value Added Reseller (VAR) with strong technical experience. Altaware, Inc.'s engineers have an average of 20 years industry experience coming from running large IT shops. Altaware, Inc.'s security offerings are for desktops, servers and networks, whose staff offers quality and reliable solutions that you can rely on. For more information, please visit: http://www.altaware.com/v/netclarity/
Contacts
NetClarity, Inc.: Cherie LaFlamme, Marketing, claflamme(at)netclarity(dot)net Toll Free: 1-800-874-2133 x2038 or 781-791-9497 Ext. 2038
Altaware, Inc., Werner Schmidt, President/CEO, sales(at)altaware(dot)com, Phone: 866-833-4070