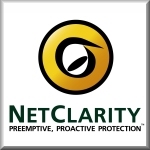 NetClarity is that vendor in the exploding BYOD and NAC market.
Bedford, MA and New Rochelle, NY (PRWEB) September 24, 2012
NetClarity, Inc., the leading provider of integrated internal security solutions for mid-sized businesses, today announced a partnership with Heavy Water to resell their award-winning NACwall security appliances. This partnership provides Heavy Water's customers access to NetClarity's internal security solutions that will help businesses that contain anywhere from 10 to 25,000 devices effectively protect their networks from internal attacks. A firewall is no longer enough to protect your business' network from hackers and solve the issues that come along with the BYOD dilemma and guest networking; an internal security solution such as NetClarity's NACwall protects networks from the inside-out.
"At Heavy Water we are always in search of a dynamic products that can bring the right solution to the customers issues and have the potential to redefine the market,' said Michael Oh, CEO of Heavy Water Ltd. "NetClarity is that vendor in the exploding BYOD and NAC market and by thinking outside the traditional approaches of the other vendors, it provides tremendous advantages. We are excited to bring these products to our customers and to partner with NetClarity."
Implementing NetClarity's integrated internal security solution through Heavy Water offers the following benefits:

Comprehensive support and design
Professional on-site Sales and Engineering support
Lowest initial investment costs for NAC equipment in the industry
Secure control of all appliances through a built-in command center that is included with all Enterprise units at no extra charge
Ability to deploy internal network security solutions in less than an hour, per site
Interoperability on all existing networking environments, devices, and operating systems
The most powerful security model for managing internal risk and regulatory compliance
"We are excited to team up with Heavy Water to expand our innovative NACwall internal security solutions to their extensive customer base," says Hal Charnley, CEO, NetClarity. "Heavy Water offers an exceptional service and support model, and we think our NACwall appliances will fit perfectly into their IT portfolio to better serve their customers' internal networks."
To learn more about NetClarity's Next Generation NACwall appliances, click here to download a whitepaper: http://blog.netclarity.net/netclaritys-next-generation-nac-whitepaper-request
About NetClarity, Inc.
NetClarity is privately-held and is the leading of integrated internal security solutions today, serving the mid-size market. Our passion to deliver the world's easiest-to use, fastest, most powerful, and cost effective NAC technology, which in turn fuels our growth through strong market demand. NetClarity's NACwall appliances, leveraging the company's groundbreaking and patented Inside-Out Network Security™ technology, provide the most proactive approach to internal intrusion defense in the entire industry. NetClarity is headquartered in Bedford, MA with offices and partners throughout the world. For more information, visit us at http://www.netclarity.net.
About Heavy Water Ltd.
Since its inception in 1992, Heavy Water Ltd. has become one of the region's most skilled and innovative networking firms. Heavy Water delivers converged infrastructure of data and voice, security and managed services overlaid with comprehensive maintenance and product lifecycle support with 24x7x365 manned NOC across vendors with best of breed products. Through our Consulting or Outsourcing Services, Heavy water delivers working solutions - not just promises. For more information visit us at: http://www.heavywaterltd.com.
Contacts
NetClarity, Inc. Cherie LaFlamme, Marketing Manager, claflamme(at)netclarity(dot)net Toll Free: 1-800-874-2133 x2038 or 781-791-9497 Ext. 2038
Heavy Water, Rachele Pearce, Marketing, rpearce(at)heavywaterltd(dot)com Phone: 914-316-3633