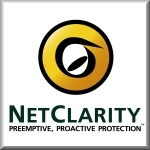 NetClarity continuously protects the internal network.
Bedford, MA, US and Stockstadt, Germany (PRWEB) October 15, 2012
NetClarity, Inc., the leading provider of integrated internal security solutions for mid-sized businesses, today announced a partnership with Intellicomp who will become their leading distribution partner for the German markets. This partnership provides Intellicomp's channel partners access to NetClarity's internal security solutions that will help companies containing anywhere from 10 to 25,000 devices effectively protect their networks from internal attacks.
Through the Bring Your Own Device (BYOD) movement, the need to control employees' mobile devices, such as smartphones, tablets, and laptops, has become inevitable and businesses must adopt a solution to ensure their networks are kept secure. NetClarity's internal security appliances identify and control all of the devices that have access, or are trying to gain access, to the network. The process of allowing and blocking devices onto the network is simplified by simple deployment, agentless and non-inline technology, and automatic vulnerability scanning of devices that are attempting to access the network. For more information on BYOD, read this whitepaper: http://blog.netclarity.net/netclaritys-byod-whitepaper-request
"As a security consultant and member of several Security Emergency Response Teams, I am always asked to come in at the same time... when it is already too late and I am working on damage control or forensic evidence due to a breach. In this effort, we use a variety of SIEM and NAC solutions. NetClarity is superior because it secures internal networks proactively and prevents the compromise of these networks. The additional PCI DSS, ISO 27001, and other reporting features not only ease the everyday tasks of the security officer, but provide excellent prioritization of internal control weaknesses—all of this while the NACwall continuously protects the internal network. Therefore, I am pleased to be able to take NetClarity's outstanding solution into Intellicomp's security portfolio to provide our partners access to the best internal security solution in the market," explains Christian Nowitzki, owner of Intellicomp and security consultant.
Intellicomp's channel partners now have the opportunity to secure networks from the inside-out with the NACwall product family that provides:

Professional on-site Sales and Engineering support
Lowest initial investment costs for NAC equipment in the industry
Secure control of all appliances through a built-in command center that is included with all Enterprise units at no extra charge
Ability to deploy internal network security solutions in less than an hour, per site
Interoperability on all existing networking environments, devices, and operating systems
The most powerful security model for managing internal risk and regulatory compliance
"We are very glad to have Intellicomp as our Distributor in Germany," says Bernard Girbal, Vice President, International Operations. "Intellicomp is known for its highly technical team and its reputation to serve customers with the highest level of satisfaction. The fact that they have developed a Managed Security Service Provider practice was a key factor to partner with them. Intellicomp will be on the continuum of NetClarity expending its presence in the European and International markets as demand of the NACwall solutions is increasing dramatically."
About NetClarity, Inc.
NetClarity is privately-held and is the leading of integrated internal security solutions today, serving the mid-size market. Our passion to deliver the world's easiest-to use, fastest, most powerful, and cost effective NAC technology, which in turn fuels our growth through strong market demand. NetClarity's NACwall appliances, leveraging the company's groundbreaking and patented Inside-Out Network Security™ technology, provide the most proactive approach to internal intrusion defense in the entire industry. NetClarity is headquartered in Bedford, MA with offices and partners throughout the world. For more information, visit us at http://www.netclarity.net
About Intellicomp
Intellicomp is one of the leading value added distributors in Germany specializing in data protection, data security, data management and enterprise security. Intellicomp offers support and advisory services to its solution partner and reseller partners with a focus on legal requirements for the German market. The partners benefit from Intellicomp's experience in developing, integrating and operating these solutions. We attach, in addition to safety, special emphasis on the interoperability of our solutions to be able thus to ensure a seamless and secure interlocking of the solutions we provide. For more information, visit http://www.intellicomp.de
Contacts
NetClarity, Inc. Cherie LaFlamme, Marketing Manager, claflamme(at)netclarity(dot)net Toll Free: 1-800-874-2133 x2038 or 781-791-9497 Ext. 2038
Intellicomp, Christian Nowitzki, CEO, cnowitzki(at)intellicomp(dot)de, Phone: +49-6093-369998-1