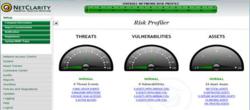 Lantana is happy to be partnering with NetClarity!
Bedford, MA (PRWEB) October 12, 2012
NetClarity, Inc., the leading provider of integrated internal security solutions for mid-market businesses, today announced that they have signed an agreement with Lantana Communications to resell their award winning NACwall security appliances. This partnership gives Lantana Communications' customers access to NetClarity's holistic internal security solutions, the NACwall family of appliances, to effectively protect businesses from internal attacks on networks containing from 10 to 25,000 devices. With Bring Your Own Device (BYOD) and guest networking trends on the rise, it is no surprise that companies are looking for internal security solutions that include network access control, vulnerability auditing, asset discovery and analysis, malware protection, and compliance reporting all in one device to help protect customers' sensitive data and assets. For more on this Bring Your Own Device trend, read this whitepaper: http://blog.netclarity.net/netclaritys-byod-whitepaper-request
"Lantana is happy to be partnering with NetClarity," says Vice President and General Manager, Karl Jackson. "This is a great opportunity for our company to expand the solution set we offer our customers, which in turn serves them better."
Implementing NetClarity's integrated internal security solution through Lantana Communications offers the following benefits:

Professional on-site Sales and Engineering support
Lowest initial investment costs for NAC equipment in the industry
Secure control of all appliances through a built-in command center that is included with all Enterprise units at no extra charge
Ability to deploy internal network security solutions in less than an hour, per site
Interoperability on all existing networking environments, devices, and operating systems
The most powerful security model for managing internal risk and regulatory compliance
"I am pleased to announce this partnership with Lantana Communications. By partnering with Lantana, we are able to provide their customers and the larger market with a holistic approach to internal network security through our NACwall family of appliances," commented Hal Charnley, CEO, NetClarity. "Lantana has a stellar service and support model and NetClarity's industry-leading internal security solutions fit perfectly into Lantana's IT portfolio."
About NetClarity, Inc.
NetClarity is privately-held and is the leading provider of integrated internal security solutions today, serving mid-market businesses. Our passion to deliver the world's easiest-to use, fastest, most powerful, and cost effective NAC technology, which in turn fuels our growth through strong market demand. NetClarity's NACwall appliances, leveraging the company's groundbreaking and patented Inside-Out Network Security™ technology, provide the most proactive approach to internal intrusion defense in the entire industry. NetClarity is headquartered in Bedford, MA with offices and partners throughout the world. For more information, visit us at http://www.netclarity.net
About Lantana Communications
Lantana Communications is an Avaya Platinum Business Partner and a leading solutions provider of designing, implementing and maintaining converged communication networks. We offer a full range of solutions including IP Telephony, Data Infrastructure, Unified Communications, Contact Center, Wireless, Security, Speech Applications and much more. We also provide a complete range of services from Design Engineering, Installation Project Management Repair, Remote Monitoring, Support Agreements and Financing.
We know your needs are special and we are in this business not to just save you money, but to enable you to make money through a solutions provider. Our converged communications solutions are cost-effective and our performance is guaranteed through the number of experienced employees who call Lantana home. For more information, visit us at http://www.lantanacom.com
Contacts
NetClarity, Inc.: Cherie LaFlamme, Marketing Manager, claflamme(at)netclarity(dot)net Toll Free: 1-800-874-2133 x2038 or 781-791-9497 Ext. 2038
Lantana Communications, Chelsea Nivens, Marketing Director, cnivens(at)lantanacom(dot)com Phone Number 817-606-3431