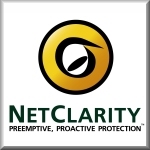 What happens inside of what IT claims is the 'safe zone' is one of the most overlooked aspects of network security; NetClarity minimizes those overlooked security holes and risks.
Bedford, MA and Oscoda, MI (PRWEB) August 09, 2012
NetClarity, Inc., the leading provider of integrated internal security solutions for mid-market businesses, today announced that they have signed an agreement with NEM Technology Inc. to resell their award winning NACwall security appliances. Over 80% of successful attacks happen from inside company networks. NetClarity's NACwall products protect businesses from these internal attacks on networks containing from 10 to 25,000 devices.
"Nearly every organization that claims to be serious about security utilizes a firewall to prevent external threats, but how many of those companies actually understands what is happening in the middle of their networks?" asks Lary Holland, President and CEO of NEM Technology. "Simply put, what happens inside of what IT claims is the 'safe zone' is one of the most overlooked aspects of network security at banks, hospitals, manufacturing, hotels, and just about every other vertical market that believes their networks are secure; NetClarity minimizes those overlooked security holes and risks."
NEM Technology now offers the NetClarity internal security solutions with the following benefits:

Professional on-site Sales and Engineering support
Lowest initial investment costs for NAC equipment in the industry
Secure control of all appliances through a built-in command center that is included with all Enterprise units at no extra charge
Ability to deploy internal network security solutions in less than an hour, per site
Interoperability on all existing networking environments, devices, and operating systems
The most powerful security model for managing internal risk and regulatory compliance
"Companies are continually looking for ways to improve both their internal and external security postures while easing their IT burdens and regulatory compliance requirements in a cost effective manner. That being said, I am pleased to announce NEM Technology as a certified NetClarity partner. Our NACwall solutions perfectly complement their existing solution portfolio and will help companies throughout Michigan keep internal networks secure," said Hal Charnley, CEO of NetClarity.
Look for NEM Technology and NetClarity at the GRRCON Conference (http://grrcon.org/) on September 27 & 28th in Grand Rapids, MI. GRRCON is the largest security conference in the Midwest.
About NetClarity, Inc.
NetClarity is privately-held and is the leading of integrated internal security solutions today, serving mid-market businesses. Our passion to deliver the world's easiest-to use, fastest, most powerful, and cost effective NAC technology, which in turn fuels our growth through strong market demand. NetClarity's NACwall appliances, leveraging the company's groundbreaking and patented Inside-Out Network Security™ technology, provide the most proactive approach to internal intrusion defense in the entire industry. NetClarity is headquartered in Bedford, MA with offices and partners throughout the world. For more information, visit us at http://www.netclarity.net.
About NEM Technology
NEM Technology is a privately held company that partners with leading computer, networking, telecommunications, and security companies to provide the best in telecommunications, networking, surveillance, and business technology services. Believing in the power of partnership, the company's mission is enshrined with the philosophy of "keeping you connected to everything." NEM Technology is headquartered in Oscoda, MI competing globally while operating locally. For more information contact their offices at 989-739-2177 or visit them at http://www.nemtechnology.com.
Contacts
NetClarity, Inc. Cherie LaFlamme, Marketing Manager, claflamme(at)netclarity(dot)net Toll Free: 1-800-874-2133 x2038 or 781-791-9497 Ext. 2038
NEM Technology Lary Holland, President, laryh(at)nemtechnology(dot)com Phone: 989-739-2177