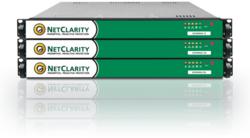 NetClarity's NACwalls solve the BYOD dilemma that many Italian companies are now facing.
Bedford, MA and Casatenovo, Italy (PRWEB) September 10, 2012
NetClarity, Inc., the leading provider of integrated internal security solutions for mid-sized businesses, today announced a partnership with Ready Informatica to become their leading distribution partner for the Italian markets. This partnership provides Ready Informatica's channel partners access to NetClarity's internal security solutions that will help companies containing anywhere from 10 to 25,000 devices effectively protect their networks from internal attacks.
Through the Bring Your Own Device (BYOD) movement, the need to control employees' mobile devices, such as smartphones, tablets, and laptops, has become inevitable and businesses must adopt a solution to ensure their networks are kept secure. NetClarity's internal security appliances identify and control all of the devices that have access, or are trying to gain access, to the network. The process of allowing and blocking devices onto the network is simplified by simple deployment, agentless and non-inline technology, and automatic vulnerability scanning of devices that are attempting to access the network. For more information on BYOD, read this whitepaper: http://blog.netclarity.net/netclaritys-byod-whitepaper-request
"As a high Value Added Distributor (VAD) in Italy, Ready Informatica aims to provide innovative technologies and market leading IT solutions," says Marco Lorefice, Vice President, Ready Informatica. "We offer unbeatable training, technical and sales support, and marketing programs to Value Added Resellers (VARs) in Italy, and we now can look forward to providing them with NetClarity's NACwall internal security appliances to help protect their customers' networks from hackers, as well as solve the BYOD dilemma that many Italian companies are now facing."
Ready Informatica's channel partners now have the opportunity to secure networks from the inside-out with the NACwall product family that provides:

Professional on-site Sales and Engineering support
Lowest initial investment costs for NAC equipment in the industry
Secure control of all appliances through a built-in command center that is included with all Enterprise units at no extra charge
Ability to deploy internal network security solutions in less than an hour, per site
Interoperability on all existing networking environments, devices, and operating systems
The most powerful security model for managing internal risk and regulatory compliance
"NetClarity is proud to have Ready Informatica as our Value Added Distributor (VAD) in Italy," says Bernard Girbal, Vice President, International Operations. "Ready Informatica is well known for the added value they bring into the market, particularly in the information security space. There are thousands of Small and Medium Enterprises in the Italian market, which is the ideal customer for NetClarity's solutions. Having Ready Informatica as our distributor will extend our footprint in the International markets, where we have seen an impressive demand of our solutions."
About NetClarity, Inc.
NetClarity is privately-held and is the leading of integrated internal security solutions today, serving the mid-size market. Our passion to deliver the world's easiest-to use, fastest, most powerful, and cost effective NAC technology, which in turn fuels our growth through strong market demand. NetClarity's NACwall appliances, leveraging the company's groundbreaking and patented Inside-Out Network Security™ technology, provide the most proactive approach to internal intrusion defense in the entire industry. NetClarity is headquartered in Bedford, MA with offices and partners throughout the world. For more information, visit us at http://www.netclarity.net
About Ready Informatica
Founded in 1984, Ready Informatica is the leading high value added distributor in Italy, and the leader in application delivery technologies, virtualization, storage, and security whose offers includes high-end products like Citrix, NetClarity, RES Software, Scense, Spoon, Double-Take, DataCore, Nexsan, Silver Peak, Imation, TwinStrata, Marathon, Sanbolic, QuorumSoft, ThinPrint, UniPrint, Wyse, ChipPC, Pano Logic, Stonesoft, Symantec-PGP, GFI, Libra ESVA, Lumension, eEye, ObserveIT. The high value of Ready Informatica is expressed mainly in the technical support who are professionally qualified and in training, conducted by the Education Division of Ready. For more information, visit: http://www.ready.it.
Contacts
NetClarity, Inc. Cherie LaFlamme, Marketing Manager, claflamme(at)netclarity(dot)net Toll Free: 1-800-874-2133 x2038 or 781-791-9497 Ext. 2038
Ready Informatica srl. Via Casati 1, 23880 - Casatenovo (LC). Email: netclarity(at)ready(dot)it Phone: 039-9212121