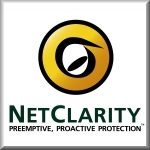 With NetClarity, we can help our customers regain control of their internal network in real-time.
Bedford, MA and Irvine, CA (PRWEB) September 04, 2012
NetClarity, Inc., the leading provider of integrated internal security solutions for mid-sized businesses, today announced a partnership with Virtual Graffiti, Inc. to resell their award-winning NACwall security appliances. This partnership provides Virtual Graffiti's customers access to NetClarity's internal security solutions that will help businesses containing anywhere from 10 to 25,000 devices effectively protect their networks from internal attacks. A firewall is no longer enough to protect your business' network from hackers; an internal security solution such as NetClarity's NACwall protects networks from the inside-out.
"With NetClarity solutions, we can help our customers regain control of their internal network in real-time," says Ryan Lipschitz, Vice President of Engineering, Virtual Graffiti. "The NACwall security appliance is extremely easy to deploy and manage and is an ideal solution for those concerned with their IT budget."
Implementing NetClarity's integrated internal security solution through Virtual Graffiti offers the following benefits:

Lowest initial investment costs for Network Access Control (NAC) equipment in the industry
Secure control of all appliances through a built-in Command Center that is included with all Enterprise units at no extra charge
Interoperability on all existing networking environments, devices, and operating systems
The most powerful security model for managing internal risk and regulatory compliance
Access to certified and trained engineers with in-depth technical experience
"I am pleased to announce this partnership with Virtual Graffiti," says Hal Charnley, CEO of NetClarity. "They have the proven ability as a rapidly-growing IT solutions provider to properly educate their customer base on the need for a holistic internal network security solution such as the NACwall."
About NetClarity, Inc.
NetClarity is privately-held and is the leading of integrated internal security solutions today, serving the mid-size market. Our passion to deliver the world's easiest-to use, fastest, most powerful, and cost effective NAC technology, which in turn fuels our growth through strong market demand. NetClarity's NACwall appliances, leveraging the company's groundbreaking and patented Inside-Out Network Security™ technology, provide the most proactive approach to internal intrusion defense in the entire industry. NetClarity is headquartered in Bedford, MA with offices and partners throughout the world. For more information, visit us at http://www.netclarity.net
About Virtual Graffiti, Inc.
Virtual Graffiti is a leading IT solutions provider specializing in business, government and education. Recognized as one of the fastest growing IT solution providers in the nation by Inc. Magazine, CRN and the VAR500, Virtual Graffiti has more than 60,000 customers worldwide and has sustained an annual growth rate of 30 percent over the past ten years. The company's highly trained and award-winning product teams help customers make smart IT buying decisions while lowering IT budget costs and improving efficiency. For more information, please visit http://www.virtualgraffiti.com
Contacts
NetClarity, Inc. Cherie LaFlamme, Marketing Manager, claflamme(at)netclarity(dot)net Toll Free: 1-800-874-2133 x2038 or 781-791-9497 Ext. 2038
Virtual Graffiti, Inc. Jamie Ellison, Creative Director, jamie(at)virtualgraffiti(dot)com Toll Free: 1-800-886-5369 or 949-870-3500.