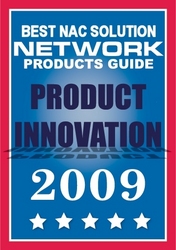 Bedford, MA (PRWEB) August 26, 2009
NetClarity, Inc., the manufacturer of the award winning NACwall appliances for Network Access Control (NAC), announced today that it is offering a Cash for NAC Clunkers program to all existing customers and partners of Consentry Networks and all other 802.1x and agent-based NAC competitors.
NetClarity, in business since 2003, with growing channel partners worldwide, makes this bold statement in their 90 Day Cash for NAC Clunkers Trade Up program:
"We will accept any competitive NAC equipment as clunky as it may be, even non-functional, for trade-in with up to $4500.00 in cash credit rebates good towards our EnergyStar compliant, Green IT, efficient and Agent-less NAC solutions, starting at a NACwall Enterprise 10 model or higher and optional bundled NACwall Micro and Branch units.
We guarantee a patented-Agent-less NAC replacement that is always significantly lower in price than any competitive 802.1x or agent-based NAC retail offer and with features that competition cannot deliver against us.
Accepted competitive NAC equipment under this program includes Consentry Networks, Cisco, Juniper Networks, McAfee, Microsoft, Symantec and others subject to NetClarity's discretion.
This offer is good through November 26, 2009 and subject to change."
NACwalls are the easiest to use Network Access Control (NAC) appliances which can be deployed in 15 minutes or less, guaranteed. Unlike competition, NACwalls avoid the pitfalls of 802.1x and agents including many known 802.1x vulnerabilities and complexity issues of deployment, inability to detect and block invaders on unmanaged hubs and switches, rogue wired and wireless devices and the use of hacked or hijacked NAC agents.
NetClarity's NACwall appliances are protected under US Patent Number 7346922, US Pat. 11/338,870, US Pat. 10898900, US Pat. 11622460, US Pat. 11769971 as well as eleven other published and pending patent applications.
About NetClarity, Inc.
NetClarity manufactures and delivers through trusted channel partners in over 40 countries, award winning patented NACwall appliances - agent-less non-inline, non-invasive network access control (NAC) devices that provide preemptive, proactive network protection behind all brands of firewalls against the latest network security threats on both wired and wireless networks. The company's NACwall line of appliances has received widespread recognition, including three Best Buy Awards, 5 Star ratings, and Best of 2007 from SC Magazine and according to CRN is one of the Who's Who in NAC and Most Innovative NAC Product Award 2008 and 2009, received 2009 Hot Companies Award and SC Magazine 2009 Finalist Award for best SME security solution. NACwalls enables customers to clearly see and better protect their network assets, identifying with pinpoint accuracy the root causes of data leakage, regulatory compliance gaps and network downtime using MITRE's CVE® standard. Based in Bedford, Massachusetts, NetClarity is privately held. For more information, visit http://www.netclarity.net/ and http://gogreen.netclarity.net
NetClarity, NACwall and the NetClarity logo are trademarks of NetClarity, Inc. CVE is a registered trademark of MITRE Corporation. All other trademarks are the property of their respective owners.
# # #