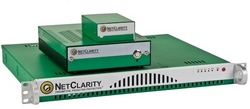 NetClarity's NACwall provides the reporting I need to show due care and due diligence for Bank IT security and compliance
New York City, NY (PRWEB) September 17, 2008
NetClarity Inc., manufacturer of the Award Winning network security appliances announces today the new release, version 6.5, of the entire NACwall appliances line. These appliances will be on display today and tomorrow during Interop Expo hours at Avocent's (NASDAQ: AVCT) booth #1034 along with tightly integrated and award winning DSView network management console.
"NetClarity's NACwall provides the reporting I need to show due care and due diligence for Bank IT security and compliance," said Ron Catrone SVP and CIO of Farmington Savings Bank (FSB).
"We're pleased to have helped deliver and deploy the NetClarity NACwall appliance to FSB, as NetClarity's trusted partner in the Connecticut region. When we deliver one of these appliances to customers, we tell them you can 'set it and forget it.' It's really that easy to deploy and yet powerful enough to have stopped the kind of breaches and data theft we are seeing at major retailers", said Jon P. Rondeau, CEO of New Wave Industries.
NACwalls are non-inline, non-invasive, plug-and-play Network Access Control (NAC) appliances which keep intruders off networks from behind firewalls on wired and wireless networks. They can scan corporate networks for trusted devices that may contain exposures or vulnerabilities exploited by hackers that firewalls and wireless encryption can't defend against. NACwalls also alert customers and block against malicious and un-trusted network access at all points on the network without the need to deploy any software agents.
New and Improved Features in NACwall v6.5 Include:

Non-inline Agentless NAC for up to 8 Physical Subnets in a single 1U appliance (Enterprise Model only)
Enhanced Alerting and Blocking Functionality in less than 10 miliseconds
Improved Correlation and Reporting of Vulnerabilities (CVE®s) with Deeper National Vulnerability Database (NVD) Integration
Automatic Vulnerability Checking on Trusted Assets (such as returning Laptops)
Automatic Blocking Functionality against Rogue wireless devices, PDAs and Unauthorized Laptops
Enhanced MAC and IP Spoof Protection
Alerting and Protection for VoIP Phones and VoIP Gateways
According to Information Week this month, "Those hardy souls evaluating NAC face a spotty track record, a long implementation cycle, and an eye-popping price tag."
"We're about to change that with our new line of plug-and-play NACwall appliances. We have a flawless track record with trusted partners selling our appliances across the globe, an almost instantaneous implementation cycle and an eye-opening low price - about 1/10th that of Cisco and Symantec with no infrastructure upgrades necessary - this is the lowest total cost of ownership (TCO) with the highest return on investment (ROI) in the industry for anyone considering deploying NAC.", said Dror Shalita, VP International Channels.
NetClarity's NACwall appliances are protected under US Patent Number 7346922, US Pat. 11/338,870, US Pat. 10898900, US Pat. 11622460, US Pat. 11769971 as well as seven other published and pending patent applications.
About Avocent Corporation
Avocent delivers IT operations management solutions that reduce operating costs, simplify management and increase the availability of critical IT environments 24/7 via integrated, centralized software. Additional information is available at http://www.avocent.com.
About Farmington Savings Bank
For over 150 years, FSB has been a successful local business thanks to our customers. Throughout our history we've had a mutually beneficial relationship with the communities we serve. Today, FSB is a billion dollar institution with twelve offices throughout the Farmington River Valley and Central Connecticut. FSB is a mutual savings bank regulated by the State of Connecticut and the FDIC. In May of 1998, Farmington Savings Bank founded the FSB Foundation, Inc. to provide a permanent way of providing contributions, grants and scholarships to eligible organizations and individuals. To date, the Foundation has donated over 2 million dollars to benefit local worthy causes. It has been our pleasure to serve the Farmington Valley community through the years and we look forward to many more years of service to you in the future. For more information visit http://www.fsbct.com/
About NetClarity, Inc.
NetClarity manufactures and delivers through trusted channel partners in over 40 countries, award winning patented NACwall appliances - agent-less non-inline, non-invasive network access control (NAC) devices that provide preemptive, proactive network protection behind all brands of firewalls against the latest network security threats on both wired and wireless networks. The company's NACwall line of appliances has received widespread recognition, including three Best Buy Awards, 5 Star ratings, and Best of 2007 from SC Magazine and according to CRN is one of the Who's Who in NAC and Most Innovative NAC Product Award 2008. NACwalls enables customers to clearly see and better protect their network assets, identifying with pinpoint accuracy the root causes of data leakage, regulatory compliance gaps and network downtime using MITRE's CVE® standard. Based in Bedford, Massachusetts, NetClarity is privately held. For more information, visit http://www.netclarity.net/
NetClarity, the NetClarity logo and NACwall are registered trademarks of NetClarity, Inc. CVE is a registered trademark of The Mitre Corporation. Avocent and DSView are registered trademarks of Avocent Corporation. All other trademarks are property of their respective owners.
###