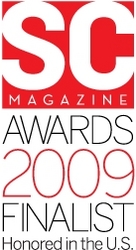 NetClarity, along with the other 2009 finalists, is among today's most respected security companies. This year's nominations were among the most competitive and NetClarity is among an elite group of finalists
Bedford, MA; New York, NY (PRWEB) December 9, 2008
NetClarity, a leading provider of award winning vulnerability management, intrusion prevention and clientless NAC appliances, today announced that it has been named as a finalist in the 2009 SC Awards program for outstanding achievement in information technology (IT) security. Its NACwall Branch appliance was named a finalist in the Excellence Award SME Security Solution category, which recognizes companies with superior security products that help customer tackle today's pressing security challenges.
"The NACwall Branch solution is helping our customers secure their growing networks while bolstering employee productivity by removing the typical administrative burdens normally associated with more complex competitive alternatives. It's a truly plug-and-protect solution and I'm pleased to see NetClarity receive the recognition they deserve for their proven innovation and go-to-market efforts," said Allan Cowen, President of Datamex Technologies, Inc.
IT security companies nominate their solutions for consideration in the SC Awards program, and entries are judged by a panel of 18 leading chief security officers from major corporations and large public sector organizations.
"NetClarity, along with the other 2009 finalists, is among today's most respected security companies. This year's nominations were among the most competitive and NetClarity is among an elite group of finalists," said SC Magazine Editor-in-Chief Illena Armstrong.
The annual SC Awards have recognized security's key contributors and outstanding products for more than a decade. As the industry's preeminent awards program, individuals, brands and products shortlisted address not only the challenges prominent today, but also the emerging threat landscape of tomorrow.
"We're honored to be nominated for this award. We specifically designed our NACwall Branch appliances to do more with less, help smaller to medium size customers as well as large organizations with diverse IT equipment and smaller remote offices by providing this IT Security and Compliance solution that fits in the palm of their hands and within their IT budget with no infrastructure upgrades necessary," said Gary S. Miliefsky, President of NetClarity, Inc.
Winners of this year's SC Awards will be announced at a gala dinner and award ceremony to be held in San Francisco on April 21, 2009.
About SC Magazine
SC Magazine provides IT security professionals with in-depth and unbiased information through timely news, comprehensive analysis, cutting-edge features, contributions from thought-leaders and the best, most extensive collection of product reviews in the business. By offering a consolidated view of IT security through independent product tests and well-researched editorial content that provides the contextual backdrop for how these IT security tools will address larger demands put on businesses today, SC Magazine enables IT security pros to make the right security decisions for their companies. Besides the monthly print magazine and daily website, the brand's portfolio includes the SC Awards, SC Directory, SC Magazine Newswire and the SC World Congress.
About Datamex Technologies Inc.
Datamex is a leading distributor of Information Privacy, Integrity and Confidentiality solutions for CIOs, IT managers and information security professionals throughout Canada. For over 35 years Datamex has been instrumental in servicing the needs of organizations as they look to adopt and integrate new technologies that prove to be strategic to their business development. Drawing upon their trusted reputation, experience, and industry insights, Datamex is well positioned to address the growing requirement and organizational dependencies on technologies that address the Network Security concern and meeting regulatory compliancy demands. Recently appointed NetClarity Canadian Distribution partner, Datamex is headquartered in Toronto, Ontario with 5 additional branches located in Vancouver, Calgary, Ottawa, Montreal and New York. To learn more, visit us online at http://www.datamex.com
About NetClarity, Inc.
NetClarity manufactures and delivers through trusted channel partners in over 40 countries, award winning patented NACwall appliances - agent-less non-inline, non-invasive network access control (NAC) devices that provide preemptive, proactive network protection behind all brands of firewalls against the latest network security threats on both wired and wireless networks. The company's NACwall line of appliances has received widespread recognition, including three Best Buy Awards, 5 Star ratings, and Best of 2007 from SC Magazine and according to CRN is one of the Who's Who in NAC and Most Innovative NAC Product Award 2008. NACwalls enables customers to clearly see and better protect their network assets, identifying with pinpoint accuracy the root causes of data leakage, regulatory compliance gaps and network downtime using MITRE's CVE® standard. Based in Bedford, Massachusetts, NetClarity is privately held. For more information, visit http://www.netclarity.net/
NetClarity, NACwall and the NetClarity logo are trademarks of NetClarity, Inc. CVE is a registered trademark of MITRE Corporation. All other trademarks are the property of their respective owners.
###