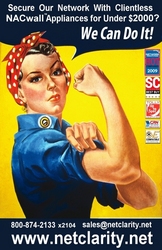 It's an honor to be recognized as a pioneer in the technology industry, and the Hot Companies award validates NetClarity's commitment to its cutting-edge product innovation and customer satisfaction
San Francisco, CA (PRWEB) March 31, 2009
NetClarity, the leading provider of the award winning, patented, agent-less Network Access Control (NAC) appliances, today announced that it has been named a '2009 Hot Company,' a recognition honored by Network Products Guide, the world's leading publication on technologies and solutions published from Silicon Valley, California.
Many well-known and successful organizations have been born or grown during economic uncertainties. The 2009 Hot Companies like NetClarity continue to be successful because the founders identified a market need and are following the 4Ps criteria by focusing on their products, people, performance and potential.
Gary Miliefsky, NetClarity President and Founder, presented to a live audience at the Technosium Executive Alliance Forum in San Francisco and received feedback from attendees that included industry executives and end-user community comprising of Chief Information Officers (CIOs) and Chief Information Security Officers (CISOs). Chris Vein, City CIO and Executive Director, Department of Technology at City and County of San Francisco also presented at this forum. Chris is know for recognizing the challenges that the City and County of San Francisco faces and coming up with a strategy to address the issues and hopefully build the consensus to resolve them. The Technosium forum also included current topic panels represented by leading technology vendors, CIOs and CISOs. Cisco Systems, Inc. supported the Technosium forum by presenting on strategic alliances and being part of industry panels.
"It's an honor to be recognized as a pioneer in the technology industry, and the Hot Companies award validates NetClarity's commitment to its cutting-edge product innovation and customer satisfaction," said Miliefsky, "with or without stimulus money, any customer can afford our easy, award winning NAC appliances, starting under $2,000 USD."
About Technosium Executive Alliance Forums
Technosium Executive Alliance Forums are bringing industry vendors and end-users together through interactive meetings. Technosium has received support from associations and industry leaders including Association of Information Technology Professionals, Information Systems Security Association, Silicon Valley Communications, San Jose Mercury News - The Newspaper of Silicon Valley, Wi-Fi Alliance, Trusted Computing Group, Information Security Professionals Association, Network Products Guide, Personal Broadband Industry Association, Covenant, Wireless Communications Alliance, Technology Lawyer, and Stanford Graduate School of Business. For more details please visit http:/http://www.technosium.com/
About NetClarity, Inc.
NetClarity manufactures and delivers through trusted channel partners in over 40 countries, award winning patented NACwall appliances - agent-less non-inline, non-invasive network access control (NAC) devices that provide preemptive, proactive network protection behind all brands of firewalls against the latest network security threats on both wired and wireless networks. The company's NACwall line of appliances has received widespread recognition, including three Best Buy Awards, 5 Star ratings, and Best of 2007 from SC Magazine and according to CRN is one of the Who's Who in NAC and Most Innovative NAC Product Award 2008. NACwalls enables customers to clearly see and better protect their network assets, identifying with pinpoint accuracy the root causes of data leakage, regulatory compliance gaps and network downtime using MITRE's CVE® standard. Based in Bedford, Massachusetts, NetClarity is privately held. For more information, visit http://www.netclarity.net/
NetClarity, NACwall and the NetClarity logo are trademarks of NetClarity, Inc. CVE is a registered trademark of MITRE Corporation. All other trademarks are the property of their respective owners.
Press Contact for NetClarity:
Kate O'Keefe
781-276-4555
###