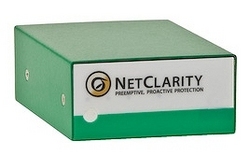 This is a testament to the quality of our engineering team and their ability to listen to customers as we deliver innovative patented NAC products into the marketplace.
Bedford, MA (PRWEB) July 7, 2008
NetClarity, Inc. today announces that SC Magazine awarded the highest rating of five stars for the NACwall Micro, based upon features, ease of use, performance, documentation, support, and value for money. This comes on the heels of receiving the "Most Innovative NAC Solution" award from Network Products Guide, 2008.
"With resellers in over 35 countries now gearing up to sell our new NACwall Micro, I think that 'David' is about to give 'Goliath' a run for his money. Our agent-less NAC product is less than 1/10th the price of the Symantec product and from the same review we received one star rating higher than they did," said Dror Shalita, Vice President of International Channels.
The assessment by SC Magazine's Lab will be published online this month in a NAC Group Test 2008 at http://www.scmagazine.com.
"NACwall Micro is an amazingly feature-rich product, despite being only slightly larger than the average digital camera…It would be in the best interests of many organizations looking for network access control to start by evaluating the NACwall Micro device," writes SC Magazine.
The NACwall Micro has additional unique features and benefits:

World's first NAC appliance to fit in the palm of your hands
Assembled in the USA, worldwide certifications for export
Weighs less than 10 oz and measures 5" x 4" x 2"
ABC's of Network Security -- Alerts, Blocks and Corrects
Improved reporting engine and multi-appliance correlation
Works to protect wired and wireless networks against criminal access
No client or agent software required -- plug in and use in 5 minutes
Non invasive, non-inline using minimal bandwidth
Works with all existing network infrastructure and legacy equipment
Only solution to provide patented protection against MAC and IP spoofing
There's no need to upgrade switches and servers
"We're honored that all three NetClarity products including our new Micro appliance have all been tested by SC Magazine and each have received the highest possible rating of Five Stars," said Gary S. Miliefsky, Founder & Chief Technology Officer, NetClarity, Inc. "This is a testament to the quality of our engineering team and their ability to listen to customers as we deliver innovative patented NAC products into the marketplace."
About NetClarity, Inc.
NetClarity is a leading provider of patented NACwall (network access control wall) products that provide preemptive, proactive network protection using the ABC's of Network Security (Alert, Block and Correct). The company's line of NACwall appliances has received widespread recognition, including two Best Buy Awards, 5 Star ratings for all products, and Best of 2007 from SC Magazine and according to CRN is one of the Who's Who in NAC as well as Tolly Up to Spec 2007 and 2008. NetClarity enables customers to clearly see and better protect their network assets, identifying with pinpoint accuracy the root causes of data leakage, regulatory compliance gaps and network downtime using MITRE's CVE® standard. Based in Bedford, Massachusetts, NetClarity is privately held. For more information, visit http://www.netclarity.net
NetClarity, the NetClarity logo and NACwall are registered trademarks of NetClarity, Inc. All other trademarks are property of their respective owners. NACwalls are protected under the U.S. Patent No. 7346922 with a dozen more patents pending.
###