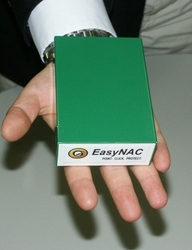 NetClarity continues to innovate on our AMCC PowerPC embedded processor in their EasyNAC Micro appliances for Network Access Control (NAC) of smaller wired and Wireless networks and remote offices
Boston, MA and San Francisco, CA (PRWEB) April 9, 2008
NetClarity Inc., the leading provider of NACwall™ (network access control wall ) appliances has released its latest version of the EasyNAC Micro appliance - the smallest, most cost-effective agent-less NAC appliance available today. The EasyNAC Micro v6.1 makes its debut during the annual RSA Conference.
NetClarity, named one of the Top Three Most Innovative Network Security Companies in the World at the RSA Conference in 2007, has with its new Micro appliances covered the missing link in network security by protecting home, branch, remote and small offices of larger enterprises in a 'green' low power, heat and operational cost design, based on the company's U. S. patent number 7346922 and eleven other patents pending.
Now shipping, weighing less than ten ounces and measuring approximately 5"x 4" x 2", the EasyNAC Micro v6.1, powered by the AMCC PowerPC 405Gpr embedded processor provides the same pre-and-post-NAC functionality as NetClarity's EasyNAC Enterprise appliance, helping reduce the risk of malicious insiders, rogue wireless and infected returning laptops from causing downtime, data leakage or gaining control of critical network resources.
This EasyNAC Micro uses the NetClarity patented model for clientless NAC, deploys in minutes without the need for agent or client software, works with existing networking and legacy infrastructure, eliminating the need for expensive upgrades.
The powerful EasyNAC Micro is portable, can fit in a pocket, be deployed on any Class C size subnet to help protect up to 256 network assets including all of your laptops, desktops and servers at smaller offices and branch locations of large enterprises or the entire network of a small to medium size business.
"Above the noise and hype in the NAC market, we've delivered on our promise using the AMCC Power Architecture based embedded processor," said Gary
Miliefsky, Founder and Chief Technology Officer of NetClarity, Inc. "This is the first in a line of NAC innovations we are releasing as part of our agent-less NACwall patent portfolio"
Features, Improvements and Benefits of NetClarity's EasyNAC Micro v6.1:

World's first NAC appliance to fit in the palm of your hands
Assembled in the USA, worldwide certifications for export
Weighs less than 10 oz and measures 5" x 4" x 2"
ABC's of Network Security -- Alerts, Blocks and Corrects
Improved reporting engine and multi-appliance correlation
Works to protect wired and wireless networks against criminal access
No client or agent software required -- plug in and use in 5 minutes
Non invasive, non-inline using minimal bandwidth
Works with all existing network infrastructure and legacy equipment
Only solution to provide patented protection against MAC and IP spoofing
There's no need to upgrade switches and servers
Priced at $995.00 USD plus shipping, maintenance and support
"NetClarity continues to innovate on our AMCC PowerPC embedded processor in their EasyNAC Micro appliances for Network Access Control (NAC) of smaller wired and Wireless networks and remote offices," said Sam Fuller, Vice President of Marketing at AMCC. "We are excited to see our Power Architecture processors helping to address NAC market challenges."
About NetClarity, Inc.
NetClarity is a leading provider of patented NACwall (network access control wall) products that provide preemptive, proactive network protection using the ABC's of Network Security (Alert, Block and Correct). The company's line of NACwall appliances has received widespread recognition, including two Best Buy Awards, 5 Star ratings, and Best of 2007 from SC Magazine and according to CRN is one of the Who's Who in NAC as well as Tolly Up to Spec 2007 and 2008. NetClarity enables customers to clearly see and better protect their network assets, identifying with pinpoint accuracy the root causes of data leakage, regulatory compliance gaps and network downtime using MITRE's CVE® standard. Based in Bedford, Massachusetts, NetClarity is privately held. For more information, visit http://www.netclarity.net
About AMCC
AMCC is a global leader in network and embedded Power Architecture processing, optical transport and storage solutions. Our products enable the development of converged IP-based networks offering high-speed secure data, high-definition video and high-quality voice for carrier, metropolitan, access and enterprise applications. AMCC provides networking equipment vendors with industry-leading network and communications processing, Ethernet, SONE, OTN and switch fabric solutions. AMCC is also the leading vendor of high-port count SATA RAID controllers enabling low-cost, high-performance, high-capacity storage. AMCC's corporate headquarters are located in Sunnyvale, California. Sales and engineering offices are located throughout the world. For further information regarding AMCC, please visit our web site at http://www.amcc.com
Forward Looking Statements
This press release contains "forward-looking statements" within the meaning of the Private Securities Litigation Reform Act of 1995. Forward-looking statements may be identified by words such as expects, anticipates, plans, believes, estimates, will or words of similar meaning. Such forward-looking statements, including statements relating to the products discussed in this press release, are subject to a number of risks and uncertainties, including the risk that the products may not be successfully or timely developed, completed or manufactured or achieve market acceptance, risks relating to general economic conditions, as well as the risks and uncertainties set forth in the Company's Annual Report on Form 10-K, and in the Company's other SEC filings. As a result of these risks and uncertainties, actual results may differ materially from these forward-looking statements. The forward-looking statements contained in this press release are made as of the date hereof and
AMCC does not assume any obligation to update any forward-looking statement, whether as a result of new information, future developments or otherwise.
NetClarity, Auditor, EasyNAC and the NetClarity logo are trademarks of NetClarity, Inc. CVE is a registered trademark of MITRE Corporation Datamex is a trademark of Datamex Technologies, Inc. PowerPC is a registered trademark of IBM. AMCC is a registered trademark of Applied Micro Circuits Corporation. Power Architecture is a trademark licensed by Power.org. All other trademarks are the property of their respective owners.
For NetClarity, Contact:
Sean Muir or Anne Steinberg
Kitchen Public Relations
(212) 687-8999
For AMCC, Contact:
Gilles Garcia
AMCC Director of Marketing and Communication
office : 1 408 542 8687 cell : 1 408 786 4317
###