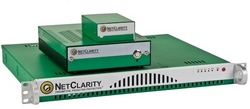 From a technology vision perspective, these guys seem to be able to scan the horizon and figure out what the next big challenge to network access control is going to be. The visionaries at NetClarity think up new and useful additions to NAC that their competitors haven't considered and add them in too
Bedford, MA (PRWEB) December 15, 2009
NetClarity, Inc., the manufacturer of the award winning NACwall appliances for Network Access Control (NAC), announced today being named a Market Innovator for NAC and Vulnerability Management by SC Magazine. In parallel, the company has released version 7.1 of the NACwall technology with new and improved support for Windows 7, Cloud Computing and virtualized local area networks (VLANs) environments.
"From a technology vision perspective, these guys seem to be able to scan the horizon and figure out what the next big challenge to network access control is going to be. The visionaries at NetClarity think up new and useful additions to NAC that their competitors haven't considered and add them in too," said Dr. Peter Stephenson, Director of SC Magazine Labs.
Some of the new and patented features in the NACwall system include:

Physical location detection through switch port blocking technology
Cloud Computing support with auditing of Virtualized Operating Systems (VOSs)
Auditing across many Virtual Local Area Networks (VLANs) from a single Ethernet connection
Alerting on wireless LANs from the same appliance protecting your physical LANs
Automatic detection and auditing of guest, trusted and returning network assets
Voice over Internet Telephony (VoIP) device detection, auditing, alerting and protecting
Improved Integration with the National Vulnerability Database (NVD) using RSS and XML
Enhanced CVE remediation Workflow Engine
Integration with the Open Vulnerability Assessment Language (OVAL) through Extensible Markup Language (XML)
New Syslog Integration with Industry Leading SIMs including Enterasys
Improved CSV, XML, PDF and HTML output of Audit results
Up to Date Regulatory Compliance Policy Tools and CVE tests for Visa PCI and the most important international regulations*
The SC Magazine review goes on to say that "NetClarity has pioneered such things as implementation in under an hour, Ethernet switch management by the NAC using 802.1q, and a few other neat innovations - all the while keeping the price accessible for organizations of all sizes. Their big innovation, of course, and the one they are best known for, is their agent-less architecture. Finally, NetClarity is not afraid to license technology. With 12 patents and more pending, they certainly have enough of it to license. Overall, a well-rounded innovator." For more information on this review, please visit SC Magazine at:
http://www.scmagazineus.com/nac-netclarity/review/3033/
NetClarity's NACwall appliances are protected under US Patent Number 7346922, US Pat. 11/338,870, US Pat. 10898900, US Pat. 11622460, US Pat. 11769971 as well as eleven other published and pending patent applications.
*other regulations which affect IT compliance and require CVE auditing and remediation include but are not limited to GLBA, HIPAA, E-Sign, Sarbanes-Oxley (SOX 404), FISMA, FDA - CFR 21 part 11, ISO 27001/17799, CA198 (Canada), BS7799 (UK) and others related to Data Protection such as the Colombian Standard for Data Protection in Banking (ESNP des bancos).
About SC Magazine
SC Magazine provides IT security professionals with in-depth and unbiased information through timely news, comprehensive analysis, cutting-edge features, contributions from thought-leaders and the best, most extensive collection of product reviews in the business. By offering a consolidated view of IT security through independent product tests and well-researched editorial content that provides the contextual backdrop for how these IT security tools will address larger demands put on businesses today, SC Magazine enables IT security pros to make the right security decisions for their companies. Besides the monthly print magazine and daily website, the brand's portfolio includes the SC Awards, SC Directory, SC Magazine Newswire and the SC World Congress.
About NetClarity, Inc.
NetClarity manufactures and delivers through trusted channel partners in over 40 countries, award winning patented NACwall appliances - agent-less non-inline, non-invasive network access control (NAC) devices that provide preemptive, proactive network protection behind all brands of firewalls against the latest network security threats on both wired and wireless networks. The company's NACwall line of appliances has received widespread recognition, including three Best Buy Awards, 5 Star ratings, and Best of 2007 from SC Magazine and according to CRN is one of the Who's Who in NAC and Most Innovative NAC Product Award 2008 and 2009, received 2009 Hot Companies Award and SC Magazine 2009 Finalist Award for best SME security solution. NACwalls enables customers to clearly see and better protect their network assets, identifying with pinpoint accuracy the root causes of data leakage, regulatory compliance gaps and network downtime using MITRE's CVE® standard. Based in Bedford, Massachusetts, NetClarity is privately held. For more information, visit http://www.netclarity.net/ and http://gogreen.netclarity.net
NetClarity, NACwall and the NetClarity logo are trademarks of NetClarity, Inc. CVE is a registered trademark of MITRE Corporation. All other trademarks are the property of their respective owners.
###