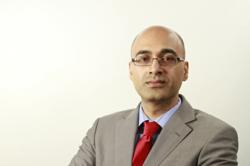 All success can be attributed to a passion for learning. Every great CEO, every great leader, you will find, has a great desire to learn, and fortunately, that desire to learn was instilled in me at a very early age. Even so, learning never stops; it must
(PRWEB) September 12, 2011
As an entrepreneur, author, learning advocate, and Chairman and CEO of NetCom Learning, Russell Sarder has earned accolades from several well-known institutions, and last month his company broke earning records, making him a businessman to watch, the company announced today.
This summer alone, Sarder published his second book, Learning: Steps to Becoming a Passionate Lifelong Learner, and has had his company awarded with a spot on Inc. 500's Inc. 5000 list of fastest growing companies. With Sarder at the helm, the company has also experienced record-breaking earnings in July and August.
These accomplishments were hard-won but are credited to Sarder's devotion to teaching the values of lifelong learning, something he learned from his father. His parents were immigrants from Bangladesh, who taught him the value of learning. Now Sarder is an entrepreneur who has helped more than 54,000 professionals achieve their goals with his learning organization, NetCom Learning. NetCom Learning is the premier provider of IT and business-training solutions. Since its founding, Sarder has turned the company into a multi-million corporation on track to grow by a projected 25 percent this year. The company has also expanded its product offerings and increased its workforce.
"All success can be attributed to a passion for learning. Every great CEO, every great leader, you will find, has a great desire to learn, and fortunately, that desire to learn was instilled in me at a very early age. Even so, learning never stops; it must become a daily part of life," Sarder said.
Sarder is a sought-after spokesperson on learning culture, business management, leadership and personal success and has been featured in the Daily News and the New York Times. His television appearances include CBS MarketWatch and Yahoo Finance. He is also the benefactor of the monthly Sarder Scholarship, devoted to professionals looking to begin or advance their IT careers.
His book, Learning: Steps to Becoming a Passionate Lifelong Learner, was released in April and has already become a major hit in the learning industry. It has figured prominently at some major learning conferences and been endorsed by many CEOs and CLOs. Sarder's book delivers eight specific steps to becoming a passionate lifelong learner. Each step is reinforced by inspiring quotes, stories and anecdotes from prominent people like Abraham Lincoln, Bill Clinton, Bill Gates and Oprah Winfrey.
Sarder's other books include Effective Learning Methods: How to Develop the Most Effective Learning Method and two soon-to-be released books: Passion for Learning and Learning Plan: Develop an Effective Learning Plan to Excel in Your Field.
To find out more about Russell Sarder visit http://www.russellsarder.com/.
About NetCom Learning
NetCom Learning is a premier provider of IT and business-training solutions to companies, individuals and government agencies. Since its inception in 1998, NetCom Learning has trained over 90 percent of the Fortune 500, serviced over 22,000 business customers, and advanced the skills of more than 50,000 professionals through hands-on expertly led training. NetCom Learning was recently recognized by Microsoft Corporation as its Worldwide Training Partner of the Year and twice named to Inc. Magazine's list of fastest growing private companies in America.
The purpose of NetCom Learning is to promote the values of lifelong learning.
About Russell Sarder
An entrepreneur who inherited his passion for lifelong learning from his parents in Bangladesh, Russell Sarder founded NetCom in 1998 and has since built it into a multimillion-dollar learning company. Sarder is the author of Effective Learning Methods and Learning: Steps to Becoming a Passionate Lifelong Learner and a sought-after spokesperson on topics of learning culture and business management. As a motivational speaker, Sarder has been featured in numerous print publications, including the Daily News and the New York Times, while his television appearances include CBS MarketWatch, Yahoo Finance and NY1. Sarder was selected a winner of the 2011 Top Ten Asian American Business Awards.
# # #