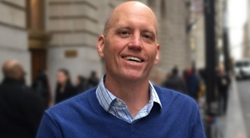 Hong Kong (PRWEB) April 20, 2017
NetDimensions appoints Bill Mastin, a learning technology veteran, as its new Senior Vice President for Global Sales.
With over 20 years of experience in the learning technologies industry, Mastin joins NetDimensions from the New York office of learning and engagement experts LEO, a sister company within Learning Technologies Group plc (LTG). At LEO, Mastin served as SVP of the North America offices and prior to that, he held key positions at Saba and PeopleFluent.
"I am excited to join the NetDimensions team and take part in its strategic growth worldwide," said Mastin. "With NetDimensions' recent addition to the LTG family, which solidifies the Group's strategy to build a comprehensive full-service digital learning offering encompassing strategic consultancy, content, delivery, and analytics capabilities to the market, this is indeed a very exciting time for the Group."
Jonathan Satchell, Chief Executive of LTG added, "Bill has played a key role in the ambitious growth strategy of LEO over the past year. We are confident that his expertise in enterprise talent management solutions will greatly contribute to NetDimensions' success."
About NetDimensions
Established in 1999, NetDimensions is a global provider of learning, knowledge and performance management solutions to highly regulated industries.
NetDimensions provides companies, government agencies and other organizations with talent management solutions to personalize learning, share knowledge, enhance performance, and manage compliance programs for employees, customers, partners, and suppliers.
NetDimensions' solutions also include custom content and learning portal development services, as well as off-the-shelf course libraries and regulatory compliance courseware developed by NetDimensions' subject matter experts and content partners.
NetDimensions' award-winning solutions have been chosen by leading organizations worldwide including ING, Cathay Pacific, Chicago Police Department, Geely Automotive, Norton Healthcare, and Fresenius Medical Care.
NetDimensions is ISO 9001 certified and NetDimensions' Secure SaaS practices are ISO 27001 certified.
NetDimensions is part of Learning Technologies Group plc (LTG).
For more information, visit http://www.NetDimensions.com or follow @netdimensions on Twitter.
About Learning Technologies Group (LTG)
Learning Technologies Group plc (LTG) is a dynamic and steadily growing group of specialist learning technology companies. LTG has a strong global presence in the fields of bespoke learning content, educational games, consulting, specialist compliance services, learning platforms, and learning analytics.
The Group's businesses – LEO, gomo, Eukleia, Preloaded, Rustici, and NetDimensions – are at the forefront of innovation and best practice in the fast-growing learning technology sector, and have received numerous awards for their exceptional performance. LTG's brands represent the best of breed and are acknowledged throughout the industry as market leaders.