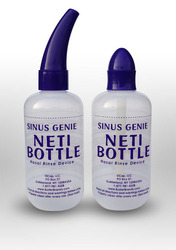 The Sinus Genie Neti Bottle combines the best aspects of a neti pot and nasal rinse applicator in one device.
Morristown, NJ (PRWEB) December 12, 2009
Dynova Laboratories, manufacturers of Sinus Buster® capsaicin nasal spray and Sinus Genie® nasal rinse salt, have launched an innovative nasal rinse device that combines a neti pot with a rinse bottle. The Neti Bottle™ is an innovative sinus cleansing device with an exclusive design and pending patents.
"Our neti bottle combines the best aspects of a neti pot and nasal rinse bottle to create one device. There's nothing else like it on the market and it can be used with any nasal rinse solution," says Wayne Perry, developer of the Neti Bottle and Director of Innovation for Dynova.
The Sinus Genie Neti Bottle comes with two tops: A nasal rinse top that can be used in the upright position, and a specially curved neti top that allows users to position the bottle at various angles. The unique neti bottle design combines both traditional nasal rinse devices into one platform that can do it all.
"I got the idea out of personal frustration. As a long time nasal rinser, I always felt other devices didn't provide enough direct control. Nasal rinse bottles are great for daily rinsing to wash away allergens and pollutants, but they can only be used in the upright position. Neti pots are also great for sinus cleansing, but the flow of water can't be controlled. Our neti bottle lets users determine the flow of their rinsing solution at any angle, so it cleans the nasal cavities from every direction for a deep thorough cleansing," adds Perry.
While neti pots have been around for thousands of years, they recently became popular again after being recommended by Dr. Oz on the Oprah Winfrey Show, but they have some drawbacks. While neti pots do help cleanse the sinuses, users cannot increase the flow of water as necessary to break through severe congestion and mucous. Nasal rinse bottles have also become popular in the past few years, but they have drawbacks as well. Although the water flow in rinse bottles can be controlled, they can only be used in the upright position and cannot provide deep cleansing.
The Sinus Genie Neti Bottle can do everything neti pots and nasal rinse bottles can, but it can also be turned at any angle. In addition, the water flow is completely controlled by squeezing it in any position. According to the manufacturer, this new neti bottle is essentially a hybrid of a neti pot and nasal rinse bottle that could make other sinus rinsing devices obsolete. For more information, visit the official Buster Brands website.
###