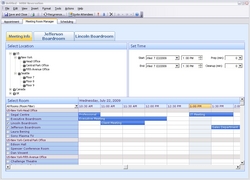 Today's productivity software must do more with less so it makes sense to get the most out of what you already have
Austin, TX (PRWEB) August 31, 2009
NetSimplicity today announced the next generation of the company's room and resource scheduling solution, Meeting Room Manager version 8.0. With the integration of bi-directional scheduling for Microsoft® Outlook®, Meeting Room Manager 8.0 enables companies to maintain complete control of their scheduling environment while still using Outlook as a self-service desktop tool for employees. This flexibility and control enables businesses to more easily increase efficiency, reduce costs and improve productivity.
Many companies that rely solely on Microsoft Outlook to schedule meetings have a gap when it comes to efficient resource utilization and control. In particular when employees schedule meetings through Outlook, scheduling administrators lack the visibility and control of user Outlook calendars that is required to effectively manage meeting times, rooms and resources. Now, with the release of Meeting Room Manager 8.0, organizations of any size can have the best of both worlds, lowering the cost of administering resources, and ensuring users have the right room, right place at the right time - every time.
"Today's productivity software must do more with less so it makes sense to get the most out of what you already have," said Nate Pruitt, Vice President of Sales and Marketing for NetSimplicity. "By integrating with Microsoft Outlook, Meeting Room Manager 8.0 increases the functionality of a software program with which a company is already familiar. NetSimplicity's latest product release offers customers a major enhancement to the Outlook scheduling capabilities and with support for the latest Microsoft platforms, we are well positioned to grow with our customers as their businesses expand."
Bi-Directional Scheduling With Microsoft Outlook Creates New Standard
By creating a bi-directional scheduling paradigm where the functions that occur in Outlook are synchronized to the Web and vice versa, Meeting Room Manager 8.0 has broken the mold of having an "either or" choice for using Microsoft Outlook agents with a Web client. Bi-directional scheduling not only enables users to create meetings in the Outlook plug-in but also manage and update the status from within the Web client with appropriate privileges. In addition, administrators can change meeting specifications on behalf of the organizer and send updated meeting information to the organizer to redistribute to attendees.
With Meeting Room Manager 8.0, organizations can push out the responsibility to schedule via self service to their workforce while providing administrators the control needed to manage and reschedule resources without having to call or email Outlook users. And, with an enhanced user-interface, Meeting Room Manger 8.0 makes it easier for users to select and manage resources while feeling like they are natively scheduling within Outlook, regardless of which application they are using. This flexibility and ease-of-use provides a better user experience and makes managing meetings and resources simple and efficient.
New Application Support Extends IT Investment
Protecting and leveraging current IT investments is essential for companies managing to conservative budgets while at the same time trying to expand and grow their businesses. NetSimplicity is helping its customers secure their investment in Meeting Room Manager 8.0 by providing support for the latest versions of Microsoft applications including SQL 2008, Server 2008/IIS7 and Internet Explorer 8.0 so as customers' businesses grow, Meeting Room Manager will be ready to grow with them.
Availability
Meeting Room Manager 8.0 is available immediately for both new and existing NetSimplicity customers. And, as with all NetSimplicity solutions, it is available through a Software-as-a-Service (SaaS) delivery model in addition to a more traditional in-house license model.
For more information on how to get the latest release of Meeting Room Manager, please visit http://www.netsimplicity.com . You can also connect with NetSimplicity through the company Blog, LinkedIn or Twitter.
About NetSimplicity
NetSimplicity, a division of Asure Software (ASUR), delivers flexible, easy-to-use software that simplifies room and resource scheduling for a more productive workplace. More than 3,000 companies worldwide depend on NetSimplicity's Meeting Room Manager scheduling solution to help them manage their meeting rooms, equipment and other shared resources. Corporate enterprises, educational institutions, healthcare entities and law firms are eliminating costly manual processes every day and realizing a quick return on investment through the use of NetSimplicity's scheduling solution. Simplified scheduling - right time, right place, right room from NetSimplicity. For more information, please visit http://www.netsimplicity.com.
"Safe Harbor" Statement under the Private Securities Litigation Reform Act of 1995: Statements in this press release regarding Asure Software`s business which are not historical facts are "forward-looking statements" that involve risks and uncertainties. For a discussion of such risks and uncertainties, which could cause actual results to differ from those contained in the forward-looking statements, see "Risk Factors" in the Company's Annual Report or Form 10-K for the most recently ended fiscal year.
###