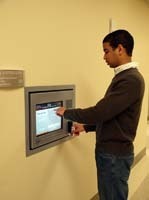 We are proud of what the College has accomplished working with NetSimplicity and the integration of Meeting Room Manager's capabilities with our new door access technologies
Austin, TX (PRWEB) August 18, 2009
NetSimplicity, leading provider of flexible, easy-to-use room and resource scheduling software, today announced the University of Tennessee-Knoxville's completed deployment of NetSimplicity's Meeting Room Manager. Bringing together technology from leading vendors Gallagher Security Management Systems, Coactive Systems and NetSimplicity, the University of Tennessee-Knoxville has created an end-to-end room reservation system integrating the James A. Haslam II Business building's access security solutions.
"We are proud of what the College has accomplished working with NetSimplicity and the integration of Meeting Room Manager's capabilities with our new door access technologies," said Ramsey Valentine, Director of Technology for the College of Business Administration at the University of Tennessee-Knoxville. "We needed a way for students to reserve rooms and get access without a phone call, without having to carry a second student ID card, and without having to manage another account, while also integrating with multiple campus systems. It was truly a team effort that made our system for scheduling and door access a reality."
When the James A. Haslam II Business Building opened its doors, the ultimate goal was to help with the effective management and security of a building that included 75 offices, 34 classrooms, 35 team rooms, 4 conference rooms, 4 special event spaces, a collaboration center, and an investment learning center. The college envisioned extending its use of Meeting Room Manager, initially piloted in its Center for Executive Education, by integrating it with its Cardax door access system from Gallagher Security.
"Our goal was to create a learning environment where technology was embedded into the very fabric of the facility - making easy-to-use, next generation learning and communication tools readily available to students and faculty," explains Valentine.
With its powerful and centralized Web scheduling engine, Meeting Room Manager gave the university the high level of flexibility and customization they needed to marry the scheduling system with the Cardax card access security system. And, to bring the solution together, Coactive Systems provided its flexible web framework called Janitor Joe. This middleware allowed the integration of the two databases and manages all communications between Meeting Rom Manager and the Cardax access control system. It also allows announcements to be displayed on all kiosks. The resulting integration of all three systems was a powerful technology match - and a perfect solution for the University.
"This project is unique in that it brings security and room management together in the IT infrastructure as a fully integrated solution," said Brad Green, President of Coactive Systems. "When a user logs onto Meeting Room Manager, Janitor Joe acts as middleware to make the Cardax and Meeting Room Manager databases perform as if they were one. The system is used to manage rooms in several buildings but can easily accommodate room scheduling and access control for additional parts of the campus as needed."
The result of the triple play combination of the college's door access system with Meeting Room Manager and the building's security system is now the most visible technological element within the building and college including a sophisticated, networked system of kiosks at the entrance of every classroom, conference room and team room suite throughout the building. Using these 42 kiosks, students and faculty can now view room schedules at a glance, reserve team rooms, see the latest college and university news, and gain scheduled access to rooms - all with a simple swipe of a university ID.
From the 42 information and scheduling kiosks with a sleek, modern design and the university's logo throughout the building to the ability to schedule on the fly or reserve classrooms, team rooms and presentation rooms well in advance, the University of Tennessee-Knoxville's College of Business and Executive Education Center is now the world-class technology center they envisioned.
"This truly integrated system combines complementing technologies into a unique solution for the college, encompassing far more than the access control," said Guerry Bruner, Regional Manager for Gallagher Security Management Systems. "It isn't just another approach to security it's a solution to a business need for the university."
"We are excited to see the completion of the project with the University of Tennessee-Knoxville and the result of great collaboration between three leading technology vendors," said Nate Pruitt, Vice President, Sales and Marketing for NetSimplicity. "For more than 10 years and in more than 500 educational institutions, NetSimplicity's Meeting Room Manager has been a trusted scheduling solution. The deployment with the University of Tennessee-Knoxville and its talented technology partners illustrates the technology's maturity and the company's focus on delivering superior customer support."
About NetSimplicity
NetSimplicity, a division of Asure Software (ASUR), delivers flexible, easy-to-use software that simplifies room and resource scheduling for a more productive workplace. More than 3,000 companies worldwide depend on NetSimplicity's Meeting Room Manager scheduling solution to help them manage their meeting rooms, equipment and other shared resources. Corporate enterprises, educational institutions, healthcare entities and law firms are eliminating costly manual processes every day and realizing a quick return on investment through the use of NetSimplicity's scheduling solution. Simplified scheduling - the right time, right place, and the right room - is what NetSimplicity delivers. For more information, visit http://www.netsimplicity.com.
About the University of Tennessee College of Business Administration
Internationally ranked in publications such as Financial Times, Princeton Review, Modern Healthcare, Public Accounting Report, Supply Chain Management Review, Journal of Business Logistics, and U.S. News & World Report, the University of Tennessee College of Business Administration pioneers innovation to prepare students for today's ever-changing, global, business environment.

Our new, state-of-the-art business building complex stands at the forefront of technology in business education.
Our fully wireless campus, advanced technology, and use of laptops are intertwined throughout all curriculum levels.
Our interdisciplinary, integrated approach to learning begins at the undergraduate level and progresses throughout all higher-level degree and executive development education.
Our internationally ranked undergraduate, MBA, accounting, and logistics programs are supported by cutting-edge faculty research, executive education, and community outreach.
About Coactive Systems, Inc.
CSI is a full service IT integration company providing technology solutions for audio, video, data, voice, dispatch, asset management, kiosks, security, communication, insurance, retail and medical systems. Our services include custom software development, technology planning for construction, system installation, maintenance and cabling. For more information, visit http://www.wemakestuffwork.com.
About Gallagher Security Management Systems
Gallagher Security Management Systems is a division of the Gallagher Group Limited, a privately owned New Zealand based company. Gallagher Group develops and markets Cardax and PowerFence™ security systems. Established in 1938, the Group is the operating company for an integrated international organization, which encompasses the development, manufacturing, and marketing of its security management solutions worldwide. Gallagher Group is a well-established global business group with distributors located in over 100 countries across Europe, North and South America, Asia, Africa and the Pacific. For more information, visit http://www.gallaghersms.com.
"Safe Harbor" Statement under the Private Securities Litigation Reform Act of 1995: Statements in this press release regarding Asure Software`s business which are not historical facts are "forward-looking statements" that involve risks and uncertainties. For a discussion of such risks and uncertainties, which could cause actual results to differ from those contained in the forward-looking statements, see "Risk Factors" in the Company's Annual Report or Form 10-K for the most recently ended fiscal year.
###