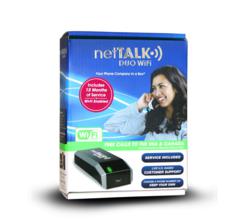 Fairfax, VA (PRWEB) July 16, 2012
NewsWatch recently aired a news story focused on voice calls over the internet and an affordable alternative to the phone company and long-distance monthly bills. netTALK has released both the netTALK DUO and netTALK DUO Wifi to give consumers a cheap and reliable VoIP telephone service.
The netTALK DUO is a sleek and versatile VoIP telephone device that connects directly with an existing home phone to the internet via a router or computer, creating a fax-friendly phone line with all of the same features as the phone company, except the cost. Users will experience clear call quality and free calling features such as call waiting, call blocking, conference calling, enhanced 911 & 411 directory assistance, and visual voicemail. With the freedom to choose a phone number or keep their own, users will enjoy free local and long distance calling to the U.S. and Canada and flat-rate, ultra-low cost international call plans. There is also free DUO to DUO calling to anywhere in the World.
netTALK has also just released the new DUO WiFi, which allows users to take a landline wherever they have wireless internet access. With the DUO WiFi, users don't need to be connected directly to a router, all they need is an active wifi connection. netTALK is backed by live, U.S.-based technical support seven days a week. There are no contracts or monthly bills and one year of service is included with the DUO and DUO Wifi purchase and each additional year is only $29.95.
Winner of PCMag.com and Laptop Editors' Choice awards, and officially designated "Business-Ready" by PCWorld, the netTALK DUO is a revolutionary VoIP device and digital phone service. The tiny netTALK DUO enables free nationwide calls to any phone in Canada and the U.S. from anywhere in the world, as well as low-cost, flat-rate international calling plans and a variety of other features, detailed at http://www.netTALK.com. No computer is necessary to make calls using the netTALK DUO, as it simply plugs directly into a modem (or computer). The netTALK DUO WiFi is the next step in the evolution of the netTALK DUO, by operating from any WiFi connection.
netTALK offers the following calling plans for the netTALK DUO and netTALK DUO WiFi (prices do not include tax):
Basic Call Plan: Free calling to US and Canada; one full year included FREE with netTALK DUO and netTALK DUO WiFi and just $29.95 for each additional year
North America Add-On: Unlimited calling to the US, Canada, Mexico, and Puerto Rico as low as $5.99 per month
International Add-On: Calling to 60 countries, including China, India, Brazil, UK, France, and more for as low as $9.99 per month
The netTALK DUO is available in the U.S. via netTALK's website; at over 1,000 Walmart Supercenters nationwide, and at a variety of other national retailers across the U.S. and Canada.
NewsWatch is a weekly 30-minute consumer oriented television show that airs nationwide. NewsWatch regularly feature top celebrities, health tips, technology products, medical breakthroughs and entertainment news on the show. The show airs in 180 markets nationwide as well as all of the top 20 broadcast markets in the country, and is the preferred choice for Satellite Media Tour and Video News Release Distribution. For more information, head to newswatchtv.com