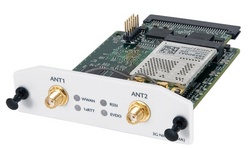 We're delighted to be strengthening our relationship with ADTRAN
HUNTSVILLE, Ala. (PRWEB) December 1, 2008
The NetVanta 3305 router equipped with the NetVanta 3G NIM is ideal for a number of applications including use as a reliable network failover/backup option for large businesses or as a primary connection for smaller businesses. Used in a backup configuration, network traffic can be diverted to the 3G wireless connection in the event of a primary circuit failure, guaranteeing network connectivity. The NetVanta 3G NIM in the NetVanta 3305 router can also be used as a primary connection in applications requiring broadband speeds, rapid deployment or where wireline connections are not readily available.
"The ability to use the NetVanta 3G NIM for wireless service in conjunction with our Automatic Teller Machines (ATMs) has been a great asset to our bank," said Jeremy Carrigan, network administrator, Citizens National Bank. "The 3G NIM allowed us to service a highly congested tourist area that could not otherwise be accessed via wireline service and it performed flawlessly."
"We're delighted to be strengthening our relationship with ADTRAN," said Michael Schaefer, executive director-mobility solutions, Verizon. "The NetVanta 3G NIM's introduction will give existing NetVanta 3305 customers the ability to quickly and easily add 3G services with the simple addition of a NIM."
"The addition of 3G wireless capability to our NetVanta 3305 routers really adds to our options for backing up a failed circuit, in addition to being an attractive primary access selection for applications such as ATMs, lotteries, and kiosks," said Tim Saunders, vice president of Product Management, ADTRAN Enterprise Networks Division. "Now, both enterprise and Small and Medium Business (SMB) customers will benefit from the many advantages NetVanta products offer ranging from cost savings and reliability, to ease of use and support."
The NetVanta 3G NIM is designed for use with a wide range of NetVanta platforms and is currently certified for use in the NetVanta 3305 with Verizon Wireless in conjunction with its BroadbandAccess Wireless Router service. The NetVanta 3G NIM carries a list price of $795 while the NetVanta 3305 has a list price of $1,295. Both products are currently shipping. Verizon Wireless service plans are available through Verizon Wireless.
About ADTRAN
ADTRAN, Inc. is a leading global provider of networking and communications equipment, with a portfolio of more than 1,700 solutions for use in the last mile of today's telecommunications networks. Widely deployed by carriers and enterprises alike, ADTRAN solutions enable voice, data, video, and Internet communications across copper, fiber, and wireless network infrastructures. ADTRAN solutions are currently in use by every major U.S. service provider and many global ones, as well as by thousands of public, private and governmental organizations worldwide.
For more information, contact the company at 800 9ADTRAN (800 923-8726) or via email at info@adtran.com. On the Web, visit http://www.adtran.com.
About Verizon Wireless
Verizon Wireless operates the nation's most reliable wireless voice and data network, serving 70.8 million customers. Headquartered in Basking Ridge, N.J., with 71,000 employees nationwide, Verizon Wireless is a joint venture of Verizon Communications (NYSE: VZ) and Vodafone (NYSE and LSE: VOD). For more information, go to: http://www.verizonwireless.com. To preview and request broadcast-quality video footage and high-resolution stills of Verizon Wireless operations, log on to the Verizon Wireless Multimedia Library at http://www.verizonwireless.com/multimedia.
Keyword Tags:
adtran, adtran netvanta, evdo, netvanta 3305, router, verizon, verizon evdo, wireless
MULTIMEDIA GALLERY http://www.businesswire.com/cgi-bin/mmg.cgi?eid=5840193