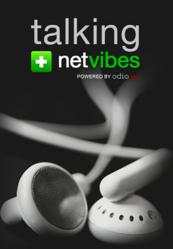 The Odiogo technology combined with Netvibes dashboards, allows users to create their personalized audio news bulletin."
New York, NY (PRWEB) July 20, 2011
Odiogo, the leading provider of cloud-based audio solutions on the go, has released in partnership with Netvibes, the global leader in dashboard intelligence, the 'Talking Netvibes powered by Odiogo' iPhone application. This app allows Netvibes users to browse their entire dashboards, tabs, and widgets to view and, most importantly, to listen to any story. Social sharing features also allow the user to share articles via email, Twitter or Facebook.
Marc Kawam, CEO of Odiogo says, "The information overload drives users to seek ways to access information in 'eyes-busy' situations, for example when driving, exercising and cooking. The Odiogo technology combined with Netvibes dashboards, allows users to create their personalized audio news bulletin with the news sources that they trust. Also, the audio feature proves itself to be extremely convenient for visually impaired users or for those experiencing difficulties reading on a small screen, as well as for language learners".
"Allowing partners and third party providers such as Odiogo to connect with the Netvibes environment via a set of secured APIs, is at the cornerstone of our strategy. We are the universal platform that lets you Dashboard Everything," said Freddy Mini, CEO of Netvibes "We salute Odiogo's initiative to provide to our large community of both individual users and Fortune 500 brands, with an innovative and convenient way to access the content of their Netvibes dashboards on the go."
The application is available on the Apple Store (http://bit.ly/TalkingNetvibes) for $2.99. A 6-month subscription is included with the purchase of the application. After the 6-month period, users can renew their service for another 6 months from within the app.
About Odiogo (http://www.odiogo.com)
Odiogo is a pioneer in the 'media shifting' space and is the leading provider of audio and vocalization services on the go. Odiogo provides a cloud-based intelligent and automated bridge that links text-content providers (mainstream media, internet news sites, and bloggers) with mobile phone and MP3 enabled device users (e.g. iPhone, iPod, tablets, other portable media players, PCs, etc.). Odiogo enables content providers to quickly and automatically generate audio from textual content, allowing consumers to easily 'listen to' their favorite online news/information on any device. The Odiogo solution is cloud-based and can be deployed on content sites very quickly.
Contact: press(at)odiogo(dot)com.
About Netvibes (http://business.netvibes.com)
Founded in 2005, Netvibes pioneered dashboard publishing, user personalization and universal Web apps (UWA). Today, Netvibes is the leading dashboard intelligence platform for the real-time Web.
For consumers, Netvibes.com is the most awarded dashboard engine that helps millions of people around the world instantly dashboard everything that matters to them most. For organizations and enterprises, Netvibes Dashboard Intelligence solutions transform the chaotic real-time Web into tangible business information, expert knowledge and automated business processes.
Netvibes powers dashboard intelligence and Web apps for more than 1,500+ of the world's leading brands, interactive agencies, government organizations, non-profits and enterprises--serving more than half a billion Web apps every month. Netvibes has offices in Paris, London and San Francisco.
Media Contact:
Vincent Chang
vincent(at)netvibes(dot)com
###