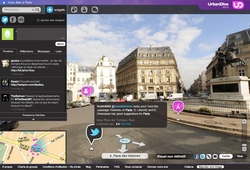 We partnered with Netvibes because they offer a universal widget platform that enables us to open UrbanDive to developers and service providers.
Paris, France (PRWEB) December 7, 2010
Netvibes (business.netvibes.com), the leading dashboard intelligence and universal widget platform, today announced that it has partnered to bring popular widget apps to PageJaunes Groupe's next-generation immersive map service, UrbanDive. Now people will be able to interact with their favourite Web services—from Twitter to Facebook, YouTube, online travel reservations, and more—directly at any geographical location within UrbanDive's immersive maps and virtual cities of France.
"Our vision for UrbanDive is to offer the ultimate immersive map experience, where people can explore their city inside and out like never before. The key to this experience is to create the ultimate immersive viewing service, where users can explore places, discover local life, and interact with all their favourite online services at any point of interest within their city," said Julien Billot, EVP, Internet Division, PagesJaunes Groupe. "We partnered with Netvibes because they offer a universal widget platform that enables us to open UrbanDive to developers and service providers. Plus, Netvibes offers the world's best collection of universal widgets—from social apps to games, brand widgets, photo, video and news content, and much more."
Launching in early 2011, UrbanDive offers people a way to virtually navigate their city in panoramic HD, delivering an entirely new experience for local search, social discovery and immersive maps. UrbanDive uncovers the hidden life of the city, enabling users to engage with their geographic and social environment, interactively create and share favourite places, and access local services and real-time information about the city around them.
Thanks to its partnership with Netvibes, UrbanDive will also feature many popular Web apps and widgets that people can interact with at any virtual location. Users can share, place or interact with all their favourite Web apps directly at any point of interest—from social games, to hotel reservation services, restaurant reviews, local weather and news, live chat applications, Facebook, Twitter, YouTube and much more. This creates a whole new level of immersive maps, where the online world and real world merge seamlessly within UrbanDive.
Netvibes and PageJaunes Groupe are working together to build a new generation of applications that interact with people's environments. It will be easy for developers and partners to build apps for UrbanDive, thanks to Netvibes UWA (Universal Widget API), a leading standard for open, universal widget development. It will also be easy for users to find and share widgets instantly from UrbanDive's built-in directory, powered by Netvibes.
"UrbanDive represents the future of immersive maps. We're proud to partner with PagesJaunes to integrate all the best Web apps directly into the real-life world that surrounds us, all in real-time," said Freddy Mini, CEO, Netvibes.
UrbanDive beta will be showcased live at the Netvibes booth at LeWeb '10, December 8-9th.
Netvibes is the leading dashboard intelligence and widget technology platform that powers more than 1,000 of the world's leading brands, agencies and enterprises and serving more than one billion widgets per month. For more information, visit http://business.netvibes.com.
About Netvibes (http://business.netvibes.com)
Founded in 2005, Netvibes pioneered the first personal dashboard publishing platform for the real-time Web. For consumers, Netvibes.com is the most awarded dashboard engine that helps millions of people around the world instantly dashboard everything that matters to them most. For agencies and publishers, Netvibes' universal widget technology (UWA), widget distribution services and Premium Dashboards help rapidly deliver brand observation rooms and user-personalized marketing campaigns. For companies, Netvibes Enterprise delivers secure, scalable personal workspaces, portals and industry dashboards.
Today, Netvibes powers personalization for more than 1,500+ of the world's leading brands, interactive agencies, government organizations, non-profits and enterprises--serving more than half a billion widgets every month. Netvibes has offices in Paris, London and San Francisco.
Media Contact:
Vincent Chang
vincent(at)netvibes(dot)com
About PagesJaunes Groupe (http://www.pagesjaunesgroupe.com)
PagesJaunes Groupe is the leader in France in local advertising and information, generating consolidated revenues of almost €1.2 billion in 2009. PagesJaunes' services can be accessed in particular through printed directories (the PagesJaunes and PagesBlanches directories), directory enquiry services by telephone and SMS (118008) and the Internet. PagesJaunes Groupe's fixed and mobile Internet sites, primarily pagesjaunes.fr, mobile.pagesjaunes.fr, mappy.com and annoncesjaunes.fr, are visited by more than one Internet user in two in France each month. PagesJaunes Groupe has a sales force of more than 2,200 sales advisers in France and Spain and provides a comprehensive range of advertising products for its 770,000 local and national advertising customers. With over €500 million of Internet revenues in 2009, representing 43% of consolidated revenues, PagesJaunes Groupe ranks first in Europe in terms of Internet advertising revenues. PagesJaunes Groupe is listed on NYSE Euronext Paris – compartment A (PAJ). Information on PagesJaunes Groupe is available at http://www.pagesjaunesgroupe.com.
Media Contact:
Daniel Lemin
dlemin(at)pagesjaunes(dot)fr
# # #