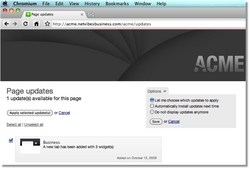 While Web personalization and real-time content hold the key to ultimate user engagement, publishers have been struggling for ways to integrate both together while respecting the user's environment
San Francisco, CA (PRWEB) October 14, 2009
Netvibes (business.netvibes.com) pioneered the first and only publishing platform to help brands and publishers rapidly create user personalizable microsites and dashboards that captivate audiences through the power of personalization. Now Netvibes Premium Dashboards are giving publishers a new way to further build ongoing user engagement with "push-and-pick" publishing tools. These tools enable publishers to push new updates, themes, widgets and media content directly to users' personalized environments, while empowering and encouraging users to pick and decide which new updates they like best.
"While Web personalization and real-time content hold the key to ultimate user engagement, publishers have been struggling for ways to integrate both together while respecting the user's environment," said Netvibes CEO Freddy Mini. "Now publishers can push live updates and new content directly into user personalized pages and dashboards, while allowing users to decide which changes they want to accept. This means they can finally offer the best of both worlds: fresh content delivered with complete user personalization."
Only Netvibes Premium Dashboards enable marketers and publishers to rapidly build highly engaging, branded microsites and dashboards in just minutes. Premium Dashboards can be integrated seamlessly within any publisher's website domain, but unlike with traditional webpages, each user can personalize their own version of that page. This enables brands and publishers to perfectly match the tastes of their users and build engagement that lasts. Furthermore, Premium Dashboards feature the Web's biggest built-in library of widgets and official media feeds (Netvibes Ecosystem) and an award-winning, drag-and-drop design interface, making it a snap to put together professional sites with deep and rich content, while skipping the traditional coding and development process.
Netvibes Premium Dashboards now feature "push-and-pick" publishing tools that enable publishers to push live updates--including new themes, widgets, feeds, layouts, and more--directly to each user. Users who have personalized their own version of a publisher's microsite or dashboard can then review and pick which updates they would like to adopt. Now publishers can deliver new content to users, while further building user interactivity and engagement by letting users decide if they want to stay with their current favorites or check out the latest that publisher has to offer.
Today, Netvibes Premium Dashboards are used by many of the world's top agencies, brands and publishers, including Ogilvy Public Relations Worldwide, Duke (Razorfish), Tribal DDB Worldwide, WeissComm Group, The Advertising Research Foundation (ARF), Le Figaro, ITV2, IlSole24Ore, Les Echos, and T-Online (Deutsche Telekom). To learn more about Netvibes Premium Dashboards, please visit: http://business.netvibes.com
###
About Netvibes (http://business.netvibes.com)
Founded in 2005, Netvibes pioneered the first personalized dashboard publishing platform for the Web. For consumers, Netvibes.com is the most awarded startpage where millions of people around the world personalize and publish all aspects of their daily digital lives. For agencies and publishers, Netvibes' universal widget technology (UWA), widget distribution services and Premium Dashboards help rapidly deliver brand observation rooms and user-personalized marketing campaigns. For companies, Netvibes Enterprise delivers secure, scalable personalized workspaces, portals and industry dashboards.
Today, Netvibes powers personalization for more than 1000+ of the world's leading brands, interactive agencies, government organizations, non-profits and enterprises--serving half a billion widgets every month. Netvibes (http://www.netvibes.com) has offices in Paris, London and San Francisco.
Media contact:
Vincent Chang
415-806-1769
vincent (at) netvibes (dot) com
###