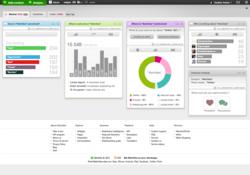 Netvibes Social Pack is the first social analytics designed to follow the free flowing train of thought of today's brand managers and social media professionals. Now you can monitor what you analyze and analyze what you monitor.
San Francisco, CA (PRWEB) July 08, 2011
Top brand managers and social media professionals need to monitor thousands of sources and analyze emerging trends in real-time—but until now, no single platform offered both. Today, Netvibes (business.netvibes.com) previewed Social Pack, a suite of new tools that adds powerful "adaptive social analytics" to Netvibes Premium Dashboards, the award-winning monitoring platform relied on by Fortune 500 brands and global agencies. Now brand managers can switch seamlessly between media both monitoring and analytics to follow interconnected trends, influencers and ideas in real-time, in ways never before possible.
A video preview of Netvibes Social Pack can be watched here: http://vimeo.com/26028745. Private demos are available for industry professionals here: http://business.netvibes.com/index.php.
"Netvibes Social Pack is the first social analytics designed to follow the free flowing train of thought of today's brand managers and social media professionals, and automatically keep them updated--even when they're away or traveling," said Freddy Mini, CEO Netvibes. "Social Pack adds the world's most powerfully adaptive social analytics to our award-winning monitoring solution to make Netvibes the first complete monitoring and analytics platform. Now you can analyze what you monitor and monitor what you analyze."
The Next Evolution in Social Monitoring and Analytics
Until now brand managers and social media professionals had to choose between monitoring or analyzing. With standard monitoring tools, users could gather and read content, but couldn't automatically analyze them in aggregate. With standard social analytics tools, users could generate high-level reports, but couldn't directly explore the original content or discover new trends as they emerge. Netvibes is the first complete platform that enables users to accomplish monitoring and analysis side-by-side.
For years, global agencies, Fortune 500 brands and enterprises have relied on Netvibes as the ultimate listening and monitoring platform. Netvibes has won more awards than any other for its monitoring tools that feature the world's largest content library of 200K+ apps, the world's fastest real-time Smart Reader, deep user personalization, push publishing, mobile syncing and offline viewing—all delivered on a scalable, powerful, universal dashboard platform that works seamlessly on all browsers and mobile devices.
This uniquely makes Netvibes the natural candidate to offer the first complete platform for both monitoring and analytics. Social Pack adds the latest social analytics technology to the world's best monitoring solution to create the next evolution in social monitoring and analytics. This hybrid approach offers three unique advantages:

Social Corpus – Results are only as good as your sources. Most social analytics are black boxes shared by everyone even if they are in different industries. You have little to no control over your sources of information or how it is analyzed. Taking advantage of Netvibes' powerful aggregation DNA, Social Corpus gives you open access to add and control exactly what sources (blogs, influencers, news feeds) to pull from, ensuring smarter, more relevant results every time. Plus, Netvibes features a built-in library of more than 200K original content feeds and apps to choose from.
Adaptive Analytics – Flat reports mean flat results. Social Pack is a completely different way to look at reporting, offering a suite of live apps that each answer a different question with dynamic visualizations and interactive viewpoints covering: Who, What, Where, When and How. Based on these cardinal logic points, Netvibes goes beyond numbers to ensure complete answers every time. Unlike cumbersome manual reports, each dynamic app lets you quickly drill down to explore and analyze interconnected trends, influencers and ideas. For example, your influencer app may tell you who your top influencers are. You want to learn more about what blog your #1 influencer writes for and exactly what is being said about your product. Netvibes will instantly create a new app just to analyze those specific keywords revealed by that one influencer and track them over time. Even better: Netvibes also features SmartTagging which helps your organization to share sentiment, comment and self-organize data—ensuring the smarter results that combine both expert human curation and adaptive algorithms.
Persistent Watch – Put your brand or campaign on autopilot. Other solutions offer only simple email news alerts based on keywords. Netvibes lets you create an unlimited number of advanced alerts to automatically monitor the effectiveness of campaigns, brand reputation, competitors and even trigger actions, like adjusting campaign budgets, triggering a newsletter response or invoking a URL. Alerts can be sent to any mobile device in real-time.
Currently in private beta for existing Netvibes Premium Dashboard users, Social Pack will be publicly available for individual professionals in late July. For a private demo of Netvibes Premium Dashboards and the new Social Pack, visit: http://business.netvibes.com.
About Netvibes (http://business.netvibes.com)
Founded in 2005, Netvibes pioneered dashboard publishing, user personalization and universal Web apps (UWA). Today, Netvibes is the leading dashboard intelligence platform for the real-time Web.
For consumers, Netvibes.com is the most awarded dashboard engine that helps millions of people around the world instantly dashboard everything that matters to them most. For agencies and enterprises, Netvibes Dashboard Intelligence solutions transform the chaotic real-time Web into tangible business information, expert knowledge and automated business processes.
Netvibes powers dashboard intelligence and Web apps for more than 1,500+ of the world's leading brands, interactive agencies, government organizations, non-profits and enterprises--serving more than half a billion Web apps every month. Netvibes has offices in Paris, London, New York and San Francisco.
Media Contact:
Vincent Chang
vincent(at)netvibes(dot)com
###