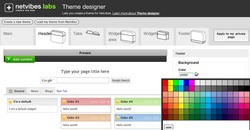 Traditionally, people had to choose between easy to use, rapid Web publishing tools that were limited in design options and interactivity, and traditional hand coding, which can be tedious and time consuming
San Francisco, CA (PRWEB) August 26, 2009
Since 2005, Netvibes (http://www.netvibes.com) has pioneered the movement to make elegantly designed personalized pages easy for anyone to make in just a few clicks of a mouse. Now with Netvibes Theme Publishing -- the first project to graduate from Netvibes Labs -- users can create their own design themes and templates with "click and pick" visual design tools, giving them ultimate control over the look and feel of their creations. These can also be instantly shared with the world via the Netvibes Ecosystem, the Web's largest directory of universal widgets and rich media feeds. This makes Netvibes the ultimate rapid publishing platform for busy Web designers and users alike.
"Traditionally, people had to choose between easy to use, rapid Web publishing tools that were limited in design options and interactivity, and traditional hand coding, which can be tedious and time consuming," said Netvibes CEO Freddy Mini. "Netvibes offers designers the best of all worlds: live drag-and-drop layouts and page publishing, deep built-in content libraries and user interactivity -- and now with our new Theme Publishing -- complete control over every design aspect of their pages."
Netvibes Theme Publishing features a visual design editor that lets users easily edit every part of their page theme. Users simply "click and pick": click which part they want to edit and pick options from a color palette and design option menus. Designers can upload images for headers, footers and backgrounds, which Netvibes will host for free. Furthermore, every change is shown live in a preview pane that make it easy to see exactly what the new theme looks like.
Themes are also easy to share on the Netvibes Ecosystem. Once a theme has been created and applied to their page, users can simply edit their preferences to share their theme publicly. This enables designers to share their creations and showcase their talents with millions of Netvibes users around the world.
To learn more about Netvibes Theme Publishing, please visit: http://blog.netvibes.com
For even more advanced design control, Netvibes offers a new XML-based Theme API, which also enables designers to create animated themes. For documentation and more information, please visit: http://dev.netvibes.com/blog/2009/07/29/building-your-own-animated-theme-for-netvibes
Today, Netvibes is used by top marketing agencies and designers to rapidly create branded microsites, media portals and user-personalizable sites. Built-in content libraries, live WSYIWYG drag-and-drop layout tools, and a global distribution network makes Netvibes the faster, easier way to publish, without the time and costs associated with traditional Web development. To learn more about how Netvibes is helping today's top agencies and brands, visit: http://business.netvibes.com
About Netvibes (http://business.netvibes.com):
Netvibes is the leading personalization platform for the Web. For consumers, Netvibes.com is the most-awarded startpage portal where millions of people around the world can take control of their digital lives. For agencies and publishers, Netvibes' universal, cross-platform widget technology (UWA), widget distribution services and widget-based microsite publishing tools help more than 1000+ top brands rapidly deliver user-personalized marketing campaigns. For companies, Netvibes Enterprise provides secure, scalable personalized workspaces, industry dashboards and branded enterprise portals.
Founded in 2005, Netvibes has offices in Paris, London and San Francisco. For more information, visit: http://business.netvibes.com.
Media contact:
Vincent Chang
415-806-1769
vincent (at) netvibes.com
###