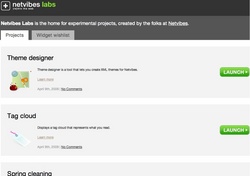 Now with Netvibes Labs, we're encouraging our users to participate the development of their products.
San Francisco, CA (PRWEB) April 15, 2009
Netvibes (http://www.netvibes.com), the leading personalization platform for the Web, today announced the launch of Netvibes Labs (http://labs.netvibes.com), a place where Netvibes users can try out new projects before they are released, make suggestions for new features, and vote for their favorite new ideas. Netvibes Labs will also be showcased live on April 22nd in San Francisco at Netvibes RendezVous, a global series of VIP mixers for widget marketers.
"Netvibes is a company that's all about giving choice back to users about how they experience the Web. But without the help of dedicated users around the world who have translated and localized Netvibes into more than 80 languages, we never would have become what we are today," said Netvibes CEO Freddy Mini. "Now with Netvibes Labs, we're encouraging our users to participate the development of their products."
Netvibes Labs debuts with three useful projects to help users get even more out of Netvibes. These projects include a Theme Designer, where users can create their own custom themes or import third-party XML themes (Netvibes' theme format is compatible with iGoogle's); Tag Cloud, a tool that creates a tag cloud based on a users' collection of feeds and widgets, allowing users to explore and find more widgets based on these tags; and Spring Cleaning, a convenient dashboard that reveals unread or old feeds and enables users to quickly archive them to clean up their startpage. As new projects are released, users can visit Netvibes Labs to test them and provide ongoing feedback.
Netvibes Labs also features a Widget Wishlist, an interactive idea board where users can post their suggestions for future widget projects. Users can develop ideas further by leaving comments and voting whether they think the idea is good or bad. Furthermore, a Top Ten list showcases the most popular ideas. The Netvibes development team will continually review these ideas and promote the best ones into actual development projects.
Now Netvibes users have a great new way to voice their opinions on what features matter to them the most and to experiment with them before they are released. Together with real-time status updates on Twitter (follow @Netvibes), Netvibes Labs further advances the company's ongoing commitment to providing users with complete choice and control over their personal Web.
Next week on April 22nd, the company will host Netvibes RendezVous SF, the first in a global series of private VIP mixers for marketers to meet, unwind and collaborate on the topic of widget marketing. Featuring wine, food, music and an interactive widget gallery, the party will gather special guests from interactive marketing agencies, NorCal Business Marketing Association, SFBIG and ad:tech San Francisco.
For more information on Netvibes Labs and Netvibes RendezVous, visit: http://blog.netvibes.com
About Netvibes (http://business.netvibes.com):
Netvibes is the leading personalization platform for the Web. For consumers, Netvibes.com is the most-awarded startpage portal where millions of people around the world can take control of their digital lives. For agencies and publishers, Netvibes' universal, cross-platform widget technology (UWA), widget distribution services and widget-based microsite publishing tools help more than 1000+ top brands rapidly deliver user-personalized marketing campaigns. For companies, Netvibes Enterprise provides secure, scalable personalized workspaces, industry dashboards and branded enterprise portals.
Founded in 2005, Netvibes has offices in Paris, London and San Francisco. For more information, visit: http://business.netvibes.com.
Media contact:
Vincent Chang
415-806-1769
###