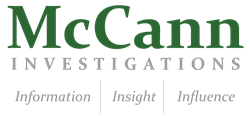 Our network security specialists are highly trained in their field, and are able to efficiently locate network vulnerabilities and recommend the best methods for protection
Houston, TX (PRWEB) August 02, 2013
McCann Investigations, a Houston-area firm specializing in the field of private investigations and information security, recently announced its network security audits services.
The purpose of a network security audit is to strengthen the network and locate any vulnerabilities that exist in the system. When vulnerabilities are present in a network, they could be exploited by attackers to gain access to private, compromising information. These audits enable businesses to prepare in advance for any potential attacks.
"Our network security specialists are highly trained in their field, and are able to efficiently locate network vulnerabilities and recommend the best methods for protection," said Daniel Weiss, Managing Director at McCann Investigations. "We are pleased to be able to offer these services to our Houston area clients at affordable rates."
In planning a network security audit, McCann's specialists first meet with the business's IT management to identify any potential areas of concern. After performing thorough review and research of all policies, procedures, systems planning and technologies, they begin laying the groundwork for the actual security review.
Network security audits give businesses a proactive approach to information security. Rather than waiting for an incident to occur, McCann's specialists can come in and help bolster a business's security to prevent any such incident from happening at all.
"Every business and organization should do everything possible to strengthen the security of its network," said Weiss. "We are pleased to be able to provide assistance with doing exactly that."
For more information about the services provided by McCann Investigations in the Houston area, visit the company's website at http://www.mccanninvestigations.com and follow the company on Twitter at @mccangi.
About McCann Investigations
McCann Investigations is a Texas-based private investigations practice focused on comprehensive investigations incorporating digital forensics, surveillance, undercover work and background checks for clients in various case types. Service areas include intellectual property theft, non-compete enforcement, fraud, embezzlement and family law. McCann Investigators are experts in the latest computer forensics tools and are licensed with the state of Texas. McCann examiners have provided expert testimony and reporting in hundreds of cases across the state.