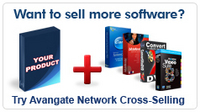 "More and more vendors form partnerships in order to market complementary products to their client base.[...] To support this business strategy, Avangate has introduced Network Cross-Selling." Laurentiu Ghenciu, VP of Sales and Marketing at Avangate
(PRWEB) February 8, 2010
Avangate eCommerce provider for software sales, full service provider of electronic software distribution and reseller management solutions for software vendors, announced the launch of Network Cross-Selling in the Avangate system. Part of the Avangate 2010 Winter Release, this major update enables software publishers to sell products for and through other vendors in the Avangate Network, opening up new channels for software distribution.
By using Network Cross-Selling, software publishers can partner to promote each others' products in order to increase revenues and enhance product exposure to a qualified audience. Avangate facilitates this process by broadening the software catalog available to each vendor and by managing automatically the distribution of commissions between accounts. The system allows flexibility in terms of shopper discount schemes, leading to improved customer satisfaction.
"In today's highly competitive software market, it has become increasingly important for publishers to offer customers complete solutions to specific problems as well as to reach new markets cost effectively. As a result, more and more vendors form partnerships in order to market complementary products to their client base", mentioned Laurentiu Ghenciu, VP of Sales and Marketing at Avangate. "To support this business strategy, Avangate has introduced Network Cross-Selling – a one step further from the classic cross-selling. By suggesting software products complementary to their own, right in their shopping carts and with special discounts, vendors can provide better overall solutions and quickly increase average order value. At the same time, software publishers bringing products into the system leverage additional sales channels and marketing strength", Ghenciu continued.
Moreover, the Avangate 2010 Winter Release contains enhancements to the lead management and pricing options modules. Avangate vendors now benefit from an advanced lead management tool - this allows them to use a customizable follow-up system, extract new information on lead sources and increase conversion rates, turning more leads into customers. The pricing options module comes with improved flexibility, making pricing setup straightforward for even the most complex software licensing schemes.
For more information, visit the Avangate website at http://www.avangate.com
###