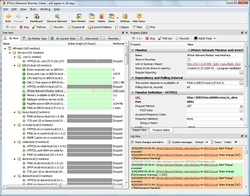 Novosibirsk, Russia (PRWEB) December 3, 2009
IPHostMonitor Inc, announced today a discount program that brings the opportunity to purchase the IPHost Network Monitor software with the discount of up to 25% from the list price. This offer, which will be available for three weeks from December 3rd till December 24th, substantially reduces the acquisition cost for IPHost Network Monitor, popular network, server and application monitoring software specifically designed for small- and medium-sized businesses with up to several hundred monitored devices and systems. To request your discount please contact us using contact form at IPHost Network Monitor support page or contact Alexander Grasmick at xmas2010 (at) iphostmonitor.com
IPHost Network Monitor is a reliable and feature-reach monitoring tool. Each monitor gives you timely information on monitored resource performance and availability. With adequate support of industry standard network and server monitoring and management technologies: SNMP monitoring (SNMP v1/v2c/v3, MIB browser is included) and WMI monitoring, IPHost Network Monitor provides you with ability to monitor both Windows and Unix/Linux servers, various networks and network equipment.
IPHost Network Monitor includes Internet monitor that supports HTTPS, POST requests, connection via proxy, several authentication methods (including NTLM) and response validation, whereas some of the high-priced tools do not even support HTTPS, not to mention authentication. Soon we will introduce advanced Internet monitor (web transaction monitor) for end-to-end web application monitoring that allows to record and replay user interaction with web application, for instance, typical session of an online shop visitor. This monitor helps companies that use web applications in their day-to-day activity or even as a base of their business to be aware when a problem with a web application performance or availability arise.
IPHost Network Monitor has native support for monitoring Oracle, MySQL and MS SQL Server databases in addition to monitoring databases using ODBC. In total, IPHost Network Monitor includes some 20 monitor types, among them: mail monitors (SMTP, IMAP, POP3), TCP, UDP, FTP, file size and availability, disc space, service availability monitors. If your environment requires some specific monitoring you can create a custom monitor (script or program) or we can create monitor for your requirements. You can also use Nagios (popular open source network monitoring system) plug-ins in our monitoring tool, currently there are about 1500 plug-ins available, so you can be sure that IPHost Network Monitor can cover the vast majority of your company needs related to network and server monitoring and management.
Some other IPHost Network Monitor capabilities highlight:

A developed alerting system with e-mail, SMS and instant messengers' (Jabberm, ICQ, AOL) notifications. In order to reduce downtime support for automation of recovery actions can be implemented.
Quick discovery of IP-based network services on devices in your network and automatic start of monitoring with thoroughly devised settings for each monitor. It helps you to start monitoring in a few minutes and to complete monitoring configuration in a matter of hours not days thus saving administrator time.
Two usable user interfaces: a Windows interface for managing monitoring configuration and review of basic reports and graphs, and a Web interface that shows various reports and graphs for in-depth analysis of the monitoring results. With just one quick look, the administrator or business owner can get an overview of the status of systems and applications in their network from any web-enabled device. The tree views that group monitors (by host, by monitor type, by current monitor state, favorite monitors) make it easy to locate a problem or navigate through reports.
Our software automatically creates daily backup of monitoring database so if the file is corrupted our software do automatic restore.
Pricing and Availability
IPHost Network Monitor is designed for Microsoft Windows 2000/XP/Vista/7 and Server 2003/2008. The 30-day trial version with the full set of features limited to 20 monitors can be downloaded at http://www.iphostmonitor.com/iphostmonitor.exe. The program prices start at USD $99 for license allowing 50 monitors and limited set of features, Professional edition with full set of features and unlimited number of monitors is priced at USD $649. Each license includes Maintenance&Support contract for one year for free.
Publisher & Editorial Information:
IT reviewers are encouraged to use this press release and any other related materials. We will be pleased to grant you a free registration key. If you do not consider electronically distributed software, please e-mail us with the details of your postal address and we will send you a jewel case. Cover media editors are authorized to include the 30-day trial version of IPHost Network Monitor 2.1 in their CD/DVD-ROMs.
Contacts:
Alexander Grasmick
grasmick (at) iphostmonitor.com
Marketing Manager
Tel: +7 (913) 797 2768
###