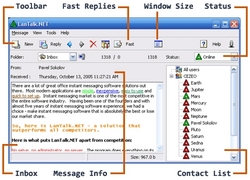 Vancouver, BC (PRWEB) March 12, 2008
CEZEO Emergency Network Notification System Discounted for Non-Profits.
Effective immediately, CEZEO Software Ltd. announces the availability of a 30% discount for LanTalk NET, an emergency network notification system, to non-profit, government and educational organizations.
LanTalk NET replaces email in corporate networks, offering instant, manageable and secure peer-to-peer communications and bulk messaging over local area networks. LanTalk NET complements existing instant messaging systems with fault-tolerant peer-to-peer intranet emergency notification.
About LanTalk NET
LanTalk enables instant delivery of single and bulk text messages and large files between employees over the local area network, WAN, or VPN. Available in various configurations and allowing deep customizations by network administrators, LanTalk is an effective solution for delivering bulk emergency notification messages instantly. Allowing receive-only, reply-only and fully bidirectional operation, LanTalk aims to replace the traditional Internet-based instant messaging solution with a secure, zero-administration peer-to-peer LAN messenger.
About CEZEO Software Ltd.
CEZEO Software Ltd. specializes in manufacturing network communication and emergency notification tools for local area networks. Aimed at the corporate market, software tools manufactured by CEZEO solve communication and security problems of corporate customers, and provide viable benefits. CEZEO software requires no maintenance and zero administration.
CEZEO offers the entire range of fault-tolerant peer-to-peer intranet messengers that enable intra and inter-office communication over LAN, WAN and VPN networks.
An evaluation version of LanTalk NET is available for free download at http://www.cezeo.com/products/lantalk-net/
CEZEO Software Ltd.
###