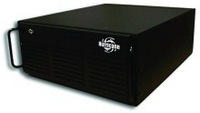 The Internet in a Box
Westlake Village, CA (PRWEB) October 5, 2009
NextGig Systems, Inc., a provider of industry leading network connectivity, monitoring and test solutions, announces the signing of an exclusive representative agreement with PacketStorm Communications, to provide the PacketStorm line of Network Emulators within California. NextGig Systems can now provide network and development professionals a feature rich line of network emulation test products.
PacketStorm develops network emulators and route analyzers. Network emulators provide "The Internet in a Box" by reproducing the unfavorable conditions of wide area networks in a controllable and repeatable lab setting. Route Analyzers monitor, record, and analyze OSPF traffic.
"PacketStorm has been creating outstanding network emulators for the last 9 years," said Paul Kirk, NextGig System's Sales Manager. "With the ability of the emulator to connect to Ethernet up to 10 Gigabites/sec, Telco interfaces such as T-1/E-1, DS-3, OC-3, OC-12 and serial interfaces, such as V.35, 530A, RS232 these are very versatile network emulators."
These network emulators provide wan emulation, distance, impairment and network simulation. They emulate any network condition in a repeatable and controllable lab setting. To re-create any network condition, the emulator can impair IP and non-IP traffic, provide dynamic, time-varying impairments, and uses a fully independent and flexible GUI architecture. Data generation provides network simulation without utilizing network resources or equipment.
PacketStorm units also have the capability to capture and save actual network impairment characteristics for replay. These real world impairments are then stored as an impairment set that can be replayed in a lab environment.
The Tornado WAN emulation software transforms a PC into a wide area network. More and more applications are becoming web based and prone to the effects of the WAN. With Tornado, IT network professionals are able to perform pre-deployment testing for applications such as: ERP, storage, VoIP, video conferencing, ecommerce, datacenter consolidation, disaster recovery, and web services. Tornado Software is available for a free trial on our website here.
By using the PacketStorm network emulators you can ensure that network modifications, changes and additions will perform in a expected and tested manner, thus, increasing the stability and uptime of the live production network.
PacketStorm Communications, Inc. founded in November 1998 by a group of engineers from the prestigious Bell Laboratories. PacketStorm develops, manufactures, and supports high end testing solutions for the Internet Protocol (IP) communications market. PacketStorm is the market leader for advanced IP Network Emulators with dynamic and traffic conditioning emulation. PacketStorm sells test solutions through a global network of independent representatives and international distributors.
About NextGig Systems, Inc.
NextGig Systems provides industry leading network connectivity, monitoring and test solutions for IT professionals and storage development engineers. NextGig's technology specialists have expertise with product information, demonstrations and in-depth evaluations. Our mission is to help our customers achieve their goals by providing them with the technology advice and products they need. We strive to develop strong relationships with our customers by operating with the highest level of integrity while offering quality products and excellent service. For more detailed information, product configurations and pricing, call us at 805-277-2400 and please visit NextGigSystems.com.
# # #