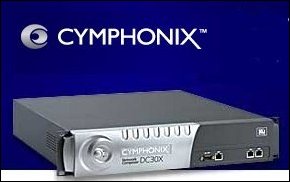 With our patented deep-scanning technology, we are able to identify traffic going through improper ports in order to block usage of anonymous proxies and prevent users from bypassing an organization's filters.
Sandy, UT (PRWEB) October 4, 2006
Responding to small-to-medium-sized business' (SMB) need for network performance and speed, Cymphonix announces Network Composer Version 7. Network Composer provides computer and network security by giving companies control and visibility of their internet connection.
Network Composer surpasses other web filtering devices by adding advanced features and functionality. Features such as application shaping, spyware blocking, anti virus, p2p blocking, web filtering, the ability to record IM conversations, and to get advanced reporting in one gateway appliance.
Along with anonymous proxy blocking, policy management, Version 7 has easier navigation and gives network administrators unparalleled control over their Internet data stream.
To learn more about Network Composer Version 7, watch our quick five minute demo.
Network Composer solves the problems created when users, applications and threats fight for limited network resources. While most solutions handle just some of these benefits they also slow network traffic. Network Composer is a gateway appliance that won't slow your network. In fact, it can improve network speed with its bandwidth shaping and application shaping capabilities.
"Network Composer Version 7 provides the capabilities our customers need," said Bob Rothe, a regional sales manager at COMPanion Corporation a Cymphonix channel partner. "Version 7 allows our customers to manage multiple Internet policies and get better, safer performance from their Internet connection."
With Network Composer's new Anonymous Proxy Guard™, administrators can now block the usage of anonymous proxy sites that are often used to bypass safeguards. With visibility and control over all HTTP traffic administrators can enforce a blanket policy for all users or restrict some groups while allowing others open access to anonymous proxies.
"While many organizations have content filtering in place to control Internet usage, they have not been able to effectively detect or control the usage of anonymous proxy sites until now," said Brent Nixon, Vice President of Product Development. "With our patented deep-scanning technology, we are able to identify traffic going through improper ports in order to block usage of anonymous proxies and prevent users from bypassing an organization's filters."
Version 7 also delivers policy management features that allow administrators to control who can access the Internet, when they can access it, what content they can access. It also provides bandwidth shaping for both users and applications within those policies.
For example, an organization could easily enforce a policy that allows the accounting department open access to the Internet after business and during the lunch hour with content filtering in place during business hours. Then they can ensure that during business hours the financial applications have priority on the network so their mission-critical traffic is getting through when it needs to.
Cymphonix has updated the interface in Network Composer Version 7, combining its existing monitoring and reporting tools with more flexible navigation. With embedded real-time monitoring, administrators can easily switch back and forth between historical and real-time reports. The introduction of tabs and multiple work spaces enables single-click navigation between favorite reports and management tools.
Network Composer's unique event correlation features have been expanded to enable organizations to quickly identify network events that impact resources and trace them back to the user that triggered the event, the application that was used and the threat that may have been involved. If more information is needed, administrators can look at specific URLs, filenames, time of day, and source and destination IP.
To learn more about Cymphonix Version 7, watch the quick five minute demo.
About Cymphonix
Cymphonix Corporation, headquartered in Sandy, Utah, provides unmatched network threat protection and resource optimization for the SMB space. Cymphonix products seamlessly integrate network protection, application performance, and traffic visibility into a single, easily managed solution. Leading the Cymphonix product line is Network Composer, a smart gateway appliance that helps organizations understand at a glance who is abusing network resources and with what applications - enabling problems to be corrected instantly through a clear, easy-to-manage interface. More information about Cymphonix can be found at http://www.cymphonix.com.
###