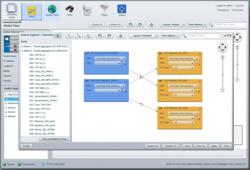 WEBX makes it simple to set up and manage network device connections.
Wilsonville, Oregon (PRWEB) September 12, 2011
APCON, Inc. today introduced the latest version of its embedded switch management interface – WEBX . This web-accessible software, which serves as the primary management interface for the company's INTELLAPATCH® Series 3000 switches, allows users to make instant, electronic connections between Layer 2-3 devices and monitoring equipment commonly installed in Fortune 500 data centers. This latest version of WEBX offers a variety of new features that make setting up and managing these connections faster and easier than ever before.
Chief among the new features is a drawing capability that allows users to build and view device connections as intuitive, Visio-like diagrams. Additionally, users have the option to save, store, recall and share these diagram connections, which speed the process of troubleshooting network issues and promote higher uptime in mission-critical enterprise production networks.
"This latest version of APCON's switch interface reflects, in large part, the input and ideas we have received from our customers," said Richard Rauch, APCON's president and CEO. "We are now hearing from the field that our new drag-n-drop GUI and other added features make the APCON INTELLAPATCH hands-down, the easiest switch to set up and manage."
Other new functionality included in the WEBX software release includes:

Global View – a new screen that offers a dashboard of switch connections, and allows users to store and organize diagrams.
Shared Source Ports – this high-demand feature allows a source port to be involved in multiple aggregated connections simultaneously, and is easily accomplished through the drag-n-drop diagramming capability.
Port Tagging – labeling of ingress traffic that makes it easy to determine the source of that traffic when viewed from an analyzer.
IPv6 Management – LAN management with support for SNMP, TACACS+, RADIUS, SSH, Telnet and APCON's CLI.
New Hardware Support – Including High-Density 10G Blades
Also included in APCON's most recent software release is support for several new blades. These blades are compatible with INTELLAPATCH® Series 3000 chassis and include:

ACI-3010-E18-5: User-settable 18-port 1G/10 Gigabit Fiber Ethernet blade
ACI-3010-E36-3: 36-port 10 Gigabit Fiber Ethernet blade
ACI-3010-I18-3: 18-port SONET OC-192/SDH STM-64 blade
ACI-3010-I36-3: 36-port SONET OC-192/SDH STM-64 blade
The INTELLAPATCH® Series 3000 represents the most flexible and scalable switching solution available today – providing up to 288 ports in a single chassis. When populated with INTELLAFLEX™ Packet Aggregator blades, this solution offers a market leading or 144 ports of 10G or 256 ports of 1G aggregation connectivity in 8RU.
Addressing data center managers' demands for uptime and reliability, the INTELLAPATCH Series 3000 switching family offers a robust enterprise-class architecture. A key feature of this design is its fault-tolerant controller cards with automatic failover. Series 3000 chassis are also modular, offering hot-swappable power supplies and field-replaceable fans, as well as a host of advanced diagnostic features.
About APCON
APCON develops innovative, scalable technology solutions to enhance network monitoring, support IT traffic analysis, and streamline IT network management and security. The company serves as the industry leader for state-of-the-art IT data aggregation, filtering, and network switching products, as well as leading-edge management-software support. Organizations in over 50 countries currently depend on APCON solutions in their network infrastructures. Customers include Global Fortune 500 companies, banks and financial services institutions, telecommunication and service providers, government and military organizations, and computer equipment manufacturers. For more information, visit http://www.apcon.com or follow on Twitter at @APCON.
Background information on APCON and images are available at: http://www.apcon.com/press.
###