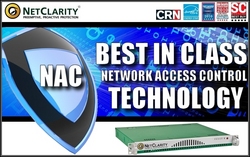 We were so impressed with NetClarity's NACwall appliances that we chose them over Cisco, Juniper, Microsoft and Symantec.
Bedford, MA (PRWEB) September 1, 2010
NetClarity, Inc., the leading provider of Network Access Control technology in the marketplace today announced the availability of version 8.0 for its NACwall appliances. This new version is designed to solve the biggest security problems from blocking malicious insiders, quarantining rogue access and stopping cyber criminals and their new "zero-day" malware. Unique to NetClarity, this is achieved in a cost effective, easily deployed, non-inline, agent-less plug-and-play NACwall appliance. Version 8.0 will be available in September 2010.
"We were already so impressed with the price, ease of use and rapid deployment of version 7.0 of NetClarity's NACwall appliances that we chose them over Cisco, Juniper, Microsoft and Symantec and are very pleased with the results. I can control network access across our country at many branch offices without ever leaving my desk with a few clicks of the mouse," said Mr. Fahd M. Al-Ghamdi - Infrastructure Services Section Head, Saudi International Petrochemical Company (http://www.sipchem.com).
With this new release, NetClarity's award winning EasyNAC™ technology, embedded in the NACwall appliances and improved for our OEM and private label partners now includes the following:
• Industry's first switch independent VLAN management for network access control
• Patented EasyNAC™ detection, alerting and quarantining on unmanaged switches and hubs
• Access control of traditionally unmanageable devices including iPhone, Blackberry and Droid
• The ability to create a Guest NAC within seconds and with only a few mouse clicks
• Protect wired and wireless networks on a single appliance across multiple VLANs
• Manage up to 80 VLANs in a single appliance without using hackable 802.1x
• Credentialed login support for Active Directory (AD) users, agentlessly
• Deep endpoint granularity including currently logged in AD users, agentlessly
• New and improved Cloud-based daily updates of threats, zero-day malware and vulnerabilities for NAC alerting, blocking and correcting of trusted assets, in real-time
• Improved scalability and command center functionality supporting up to thousands of remote locations and millions of trusted assets.
"After receiving so many industry awards and accolades for the most innovative NAC solution in the world, we continued to listen to partners and customers, who challenged us to deploy a game changing NAC solution and we've finally done it in version 8.0. This new feature set brings our world-class SMB solution to the global enterprise customer. It takes most of the burden of risk management, intrusion defense and documenting regulatory compliance off the IT staff's back, while keeping them and their fellow employees productive" said Hal Charnley, CEO, NetClarity, Inc.
About NetClarity, Inc.
NetClarity is the leading provider of Network Access Control technology in the marketplace. We have been developing patented intrusion defense technology using industry standard protocols, since 2003. This EasyNAC technology is portable and scalable and can be embedded and deployed in any form factor of hardware, typically running hardened Linux - such as a Wireless Router, Cable Modem, Firewall, Managed Switch and VPN hardware. We license this technology for turnkey NAC enablement in well-established industry partners solutions, worldwide. NetClarity has also deployed this EasyNAC technology in a scalable suite of industry standard rack-mountable hardware appliances, known as "NACwalls", which are sold through channel partners and OEMs worldwide. For more information, visit us at http://www.netclarity.net
NetClarity, NACwall, EasyNAC and the NetClarity logo are trademarks of NetClarity, Inc. CVE is a registered trademark of MITRE Corporation. All other marks are trademarks of their respective companies.
###