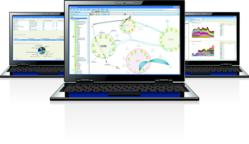 "LiveAction allows users to quickly see and identify where the problem is going to be."
Honolulu, HI (PRWEB) July 25, 2012
As complexity of managing the network grows and richer interactive and more collaborative applications are becoming the lifeline of business, companies seek sophisticated and powerful network lifecycle management solutions to help quickly and easily audit, monitor, troubleshoot, provision and maintain their growing networks. To meet business demands, ActionPacked! Networks® today introduced new LiveAction® features and capabilities designed to help accelerate deployment of rich-media applications, minimize complexity and ongoing operational costs, increasing visibility into the network and scale the infrastructure to provide users with the best quality network experience.
LiveAction 2.5 marks the next evolution of the award-winning solution. It is built upon a network services management foundation that provides an intelligent and rich visualization approach capturing actual routing and switch configurations enabling users to better understand their systems, debug and implement changes faster, and literally see flows, routes, and QoS policies in real-time across the network topology and deep inside devices.
Opening New Windows for Network Visualization
Increasing use of new video and rich-media applications create complex network challenges associated with the transmission of video, voice, and data. LiveAction 2.5 innovations provide users with capabilities to manage more than 1000 applications through the enablement of Cisco® network-based application recognition 2 (NBAR2) technology, Performance Agent, Flexible NetFlow and Cisco performance routing (PfR), included within Cisco Application Visibility and Control (AVC) and Cisco Medianet 2.0 features. The new enhancements help improve operational efficiency by providing network operators and teams with a real-time comprehensive assurance and graphically enhanced management solution critical for next-generation application-aware networks and collaboration.
The new LiveAction 2.5 innovations include enhanced solution features for:

Cisco AVC: Proactive monitoring and true end-to-end workflow with alerts, visualization, analysis, and control to accelerate troubleshooting and minimize network downtime, while increasing network capacity management through greater understanding of more than 1,000 protocol applications.
Cisco Medianet: Detect network issues impairing the quality of video and voice applications, while measuring the impact of video, voice, and data applications in the network to make quantifiable business decisions regarding the network through complete Medianet 2.0 performance monitoring (perfmon), Mediatrace, and IP SLA video operation.
LiveAction NetFlow: Flexible NetFlow framework to analyze application traffic and flow collector improvements with additional scalability and faster reports to enable users to view detailed, time- and application-based usage of the network.
LiveAction local area network (LAN): View layer 2 trunk interface, port channels, and virtual LAN (VLAN) associations, including LAN alerts, reports, tools, and quality-of-service (QoS) status to enable network managers and engineers to segment portions of their networks for security, management and scalability.
LiveAction QoS: QoS configure of NBAR2 capabilities on Cisco integrated services router (ISR) G1 and G2, and report enhancements to improve overall usability.
LiveAction Routing: Routing alerts for enhanced interior gateway routing protocol (EIGRP) and open shortest path first protocol (OSPF) protocol state change alerts, routing adjacency history and adjacency event reporting, and PfR complement traditional routing technologies by using the intelligence of a Cisco IOS® infrastructure to improve application performance and availability.
LiveAction 2.5 enhancements help enable full visibility into applications running on the network where users can control their bandwidth usage with QoS or QoS policies to limit bandwidth by applications.
SUPPORTING QUOTES
University of Wyoming: Ray Monasmith, Senior Systems Programmer: "Our prior forays into the optimization of QoS were abandoned as being too complex, and requiring too much of an engineer's time away from more pressing issues. LiveAction augments our engineers' QoS skillsets, and reduces the effort of having to obtain, parse, and analyze data from a variety of command-line sources. It also aids the engineer by representing QoS concepts in a graphical format that are otherwise difficult to conceptualize. LiveAction is literally the enabling factor behind our current efforts."
Cisco: Patricia Costa, Medianet Product Manager, Network Software & System Technology Group stated in her Cisco blog, "LiveAction provides end-to-end traffic flow visualizations and pinpoints performance problems of real-time and historical performance monitor metrics. It also performs video pre-deployment assessments by graphically provisioning and monitoring IPSLA Video Operations synthetic traffic. By supporting Medianet monitoring features, it provides the customer with a powerful tool to leverage."
ZK Research: Zeus Kerravala, Founder and Principal Analyst "Ninety percent of the time taken to solve a network problem is spent simply identifying the problem. Network managers absolutely have to know their network. They need reliable and accurate network management tools to become more predictive in their ability to troubleshoot problems versus being reactive. LiveAction allows users to quickly see and identify where the problem is going to be."
ActionPacked! Networks: Dana Matsunaga, President and CEO "LiveAction is designed to help a wide range of organizations such as enterprises, government agencies, municipalities, healthcare facilities, educational institutions and more. It provides a comprehensive real-time end-to-end vision into the network to accurately perform configuration changes that is unique within the industry enabling users to quickly gain a deeper understanding, greater visualization, and a higher performing network, while decreasing their overall total cost of ownership."
Availability and Pricing
LiveAction 2.5 is available now starting at a U.S. promotional price of $6,995 for five devices, including annual maintenance.
Register to attend the Cisco Application Visibility and Control webinar today to learn more about Cisco AVC. The event is sponsored by ActionPacked! Networks.
When: Wednesday, July 25, 2012 at 12:00 p.m. PDT.
To register, click here or go to http://actionpacked.com/registration/ciscoavcwebinar
Free trial download of LiveAction is available at http://www.actionpacked.com/liveactiondownload.
For more information on ActionPacked! Networks, visit http://www.actionpacked.com.
About ActionPacked! Networks
ActionPacked! Networks is the leader in quality-of-service software for implementing VoIP, Telepresence, Unified Communications, Medianet and other mission-critical services. The company's LiveAction software increases network service quality and shortens outages by providing true understanding and precise control using rich visualizations and direct device interaction. LiveAction is a sophisticated network management tool that helps simplify the complexity of monitoring, analyzing, and configuring technology areas such as: QoS, LAN, NetFlow, Routing, and IP SLA embedded inside Cisco devices to provide an all-in-one solution that can support both QoS auditing and provisioning.
ActionPacked! Networks is a trademark of and LiveAction is a registered trademark of ActionPacked! Networks. Cisco and Cisco IOS are registered trademarks of Cisco Systems, Inc.