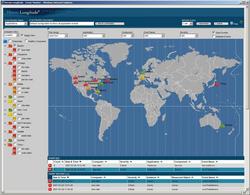 We are pleased to be nominated by Redmond Magazine
Braintree, MA (PRWEB) May 30, 2008
Heroix, a leading provider of agentless application performance and network monitoring software, today announced its Longitude software has been nominated for Best general network monitoring tool in the Network and Systems Management category for the 2008 Readers Choice Awards given by Redmond Magazine. Longitude enables IT organizations to improve application and network performance as well as monitor service level agreements (SLAs), without requiring software to be installed on each server. Redmond Magazine readers and web site visitors are encouraged to vote for Longitude online at the Redmond Magazine Voting Web SIte. Voting will close on Tuesday, June 3, 2008.
"We are pleased to be nominated by Redmond Magazine," said Rick Lane, President of Heroix. "The nomination of Longitude for this award reflects our reputation for helping IT organizations maintain high levels of service for their critical business applications. Customers consistently tell us that with our product they can find problems before they affect business processes. This saves them time and money and allows IT to focus on strategic organizational objectives rather than on constantly finding and fixing problems after they've occurred."
Longitude takes an agentless approach to reporting, alerting, automated corrective action, SLA monitoring and user experience monitoring for applications, servers, IT infrastructure, networks, and SNMP devices (Longitude product page). Longitude's streamlined architecture and Web-based user interface provide performance monitoring that is both broad and deep, without requiring any software installation on the monitored computers.
Heroix provides Longitude versions packaged and priced to meet the needs of all size businesses. Longitude Standard Edition provides effective, easy-to-use operating system and IT infrastructure monitoring capabilities affordable for small to medium businesses. Longitude Professional Edition provides feature-rich operating system and IT infrastructure monitoring with advanced application monitoring and event handling. The company's top-of-the line Enterprise Edition delivers operating system, IT infrastructure, and application monitoring software with SLA monitoring, end user experience monitoring, and other advanced features that facilitate the monitoring and management of large enterprises.
Heroix offers a 14-day free trial of Longitude as well as an online Flash demo. Please visit Heroix or call 800-229-6500 or 781-848-1701 for Longitude pricing.
About Heroix
Heroix delivers award-winning software products that help organizations optimize the availability and performance of applications, databases, systems, and IT infrastructure running across multiple platforms. Today, with a presence in over 40 countries, Heroix has delivered performance management solutions to over 1,000 organizations worldwide, including Arrowsight, Fallon Clinic, Kaiser Permanente, Honeywell, Tembec, Motorola, Inc., and Young Broadcasting.
# # #