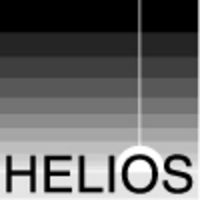 Hannover, Germany (PRWEB) May 20, 2008
HELIOS Software GmbH, a leading developer of cross-platform networking, PDF, and image server solutions for Mac, Windows, and web clients, will present its fully integrated HD color support at drupa 2008 at hall 9 booth #E23. The HELIOS UB+ software suite now offers full support for color spaces with a 16-bit color depth per channel, for TIFF, JPEG2000, Photoshop PSD, PDF, and PNG image formats. The larger color space allows preserving, throughout the prepress process, the high quality color in images generated by digital cameras, leading to a reduction of time and money for image re-purposing.
HD color features integrated within the HELIOS UB+ software suite are:

16-bit/Channel color space support for TIFF, JPEG2000, Photoshop PSD, PDF, and PNG image formats to preserve the highest quality in images in the prepress and layout workflow.
Complete ICC 4 color management including black point compensation offers highest quality color transformation for 8-bit and 16-bit per channel images.
CMYK-to-CMYK color conversion utilizing DeviceLink profiles to preserve the black plate and save inks
Preservation of pure colors during color transformation resulting in higher quality printing and proofing
HELIOS Software will offer a range of short seminars at drupa 2008, that give more detailed information about the new features and related benefits. The "HD Color" seminar will present color quality improvements utilizing the latest ICC 4 color technologies in a full 16-bit per channel color workflow for image re-purposing, printing and proofing. Advance online registration at l is strongly recommended.
For further information about the HELIOS UB+ software suite visit the HELIOS web site http://www.helios.com and stop by at the HELIOS booth (#09/E23) at drupa 2008.
Smart Ideas for Better Networking
HELIOS UB+ Unbreakable Server Solutions deliver mission critical server solutions to enterprise, government, university, and prepress sites. WebShare, EtherShare, and PCShare provide integrated cross-platform networking for Mac, Windows and web clients, with advanced file and print server services, and easy remote server administration. HELIOS ImageServer, PDF HandShake and PrintPreview bring high efficiency and advanced capabilities to design, prepress and printing operations.
HELIOS products run on powerful and scalable servers including Apple Mac OS X, IBM AIX, Linux, Sun Solaris, and Windows systems. HELIOS products provide reliable cross-platform support for Mac, Windows, web and UNIX-based clients.
Distributors sell HELIOS products worldwide to value-added resellers who provide complete networking solutions to customers. HELIOS also works with many strategic partners that incorporate HELIOS server software to provide powerful third-party archive, asset management and workflow solutions.
For U.S. Sales:
European MikroGraf Corp.: 916-923-3520; E-mail: sales (at) ugraf.com; http://www.ugraf.com
###