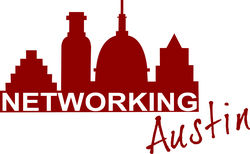 This location will allow us to help more people find the resources and relationships they need to increase their sales
Austin, TX (PRWEB) January 23, 2009
Networking Austin, the first for-profit business networking club started in Austin is opening a West Austin organization. A "Kick Off the New Year" networking party will celebrate the grand opening. The event is slated for Thursday, January 29th at The Gallery at Chez Zee.
The original club name was The CEO Network and started some 20 years ago. That successful organization was sold. The new club was started some years ago and now has evolved into the most established membership group of business professionals that exists in Austin today. Veteran members have been in the downtown club for over 7 years. The group meets at the Headliners Club located on the 21st floor of the Chase Tower, at 6th and Lavaca on Thursday mornings.
"The economy is tough and this is an excellent way to market when funds are tight," said Jim McCullick, Networking Austin club founder. "For less than a nice business meal a month, you can create a substantial sales force." McCullick is the driving force behind the club's success. His unique approach to networking is based on building close personal relationships, rather than simply giving a weekly sales pitch to attendees. This method is shared and encouraged each meeting and is responsible for generating over $230,000,000 in business for its members. "Today, sixty-percent of our business comes from this group," said Mark Lester, owner of On the Mark Travel, Inc.
The new club will be holding the breakfast networking meetings at Chez Zee restaurant at FM 2222 and Balcones every Wednesday from 7:00 am -8:30 am. Cost for non-members is $20. "This location will allow us to help more people find the resources and relationships they need to increase their sales," said McCullick. We are unlike any other networking group; we have established businesses--plus it's a lot of fun."
About Networking Austin
Networking Austin delivers a high-quality business networking experience. Participants learn how to use a unique and effective networking system to grow and expand their sales force, and ultimately, their revenues. Networking Austin is operated by experienced networkers who know this market and understand what it takes to be successful in this business community. The organization helps the business professional build long-term productive relationships that open the path to many business opportunities and greater personal wealth.
There will be a mixer with entertainment, tapas, door prizes and cash bar from 4-5 pm at the Kickoff event. Speakers, training and networking is from 5-7pm. The cost is $20.00 in advance or $30 at the door. Visit Networking Austin or call 589-1229. The event is sponsored by Your HR Group, On the Mark Travel, BeltLaw, The Slade Group and Chez Zee.
###