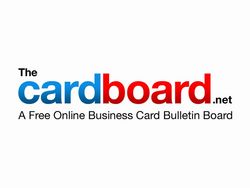 Vienna, VA (PRWEB) April 21, 2009
TheCardBoard officially launched its new Web site for business networking today, enabling small businesses, sales professionals and others to instantly share business cards in an easily searchable venue.
TheCardBoard, a next-generation business networking site for professionals, extends the concept of the business card, transforming it into a powerful Web 2.0 promotion. Through its simple online design, entrepreneurs, small business owners, sales professionals and others can upload their business cards, and add an extended description and contact information, which will be instantly visible and searchable.
Business networking today has evolved with sophisticated Web 2.0 tools like social networking, B2B marketplaces and even blogs, said Stephen Davis, President of TheCardBoard. But it all comes back to the business card. It's the start of every deal, it's the introduction that paves the way. TheCardBoard transforms the common business card into an easily shareable, searchable online product that can extend your reach to a global audience.
A free membership entitles new members to upload scanned images of their business cards with additional information. Unlike some other business networking sites though, it is not necessary to have an account to search the site. Visitors to TheCardBoard can search through the business card database easily and quickly, without having to join; making it easier for a potential client to find just the right provider.
Other business networking sites have not yet matched the simplicity and ease of contact of TheCardBoard. Initiating contact through other sites often requires multiple steps, including establishing a membership, logging into the site, and then sending a request for more information. Often, the request is not direct, but rather, posted on the site itself, and must wait for the other party to log in as well to make a response. TheCardBoard bypasses all that, allowing any visitor, whether they are a member or not, to view and search the database, and instantly send an email request for more information.
Additional features include a mapping function that shows the precise location of each business card holder, and the ability to forward a business card to a third party, even if they are not a member. TheCardBoard takes full advantage of the potential of Web 2.0, also including a review function that allows members to write short reviews of providers featured on the site and the services they offer, added Davis. It's the next generation of business cards.
For more information or to sign up for a free account, please visit http://www.TheCardBoard.net.
Contact:
Stephen Davis
TheCardBoard
(571) 287-9161
###