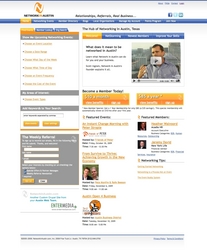 A comprehensive site like this has been a vision of mine for the last five years
Austin, Texas (PRWEB) October 26, 2009
Local networking organization Network in Austin unveiled a powerful new business resource for Central Texas professionals today, the first of its kind in the region. The powerful new website NetworkInAustin.com provides a comprehensive catalog of events hosted by regional associations, chambers of commerce, civic and networking organizations that enables individuals to easily identify the professional networking opportunities which best suit their business needs.
The new site provides professionals with greater control over their business development activities. Through a unique Networking Management Tool, professionals can set-up personalized calendar reminders for their chosen events and identify--then connect--with other attendees. The Networking Management Tool also serves as a virtual directory of Austin businesspeople, making it possible to search for an individual based on a variety of criteria including mutual event attendance.
On launching the new and improved website, Network In Austin founder and CEO Scott Ingram stated: "Austin has at least a dozen different community calendars and business event information is very fragmented. With this new website we hope to provide a single place where networking professionals can easily find the organizations and events that meet their specific needs."
"A comprehensive site like this has been a vision of mine for the last five years", continued Ingram. "We were fortunate to find an amazing team of Austin web designers & Drupal developers. Entermedia helped turn my vision into a reality in relatively short order, considering the complexity of the project."
Ingram anticipates a busy finish to 2009 for Network in Austin, as the new site launch will coincide with a special sign up offer for new members: $35 off every new annual membership.
About NetworkInAustin.com, Inc.
Network In Austin is the networking hub of Central Texas, connecting the local online networking community with opportunities to interact face to face and engage with organizations across the region. A recognized leader in networking education and professional development, it is driven by the belief that reciprocal, collaborative relationships are necessary components of business growth and community advancement. Through tailored events that teach the art of networking, Network In Austin provides a venue for its online community to meet in real life, forging strategic business relationships and sharing best practices in an effort to enhance the overall economic vitality of the greater Austin area.
About Entermedia, LLC
Entermedia is a professional web design and development firm in Austin, Texas. Founded in 2004 and specializing in custom website design and open source website development--particularly SMB lead generation, Ecommerce, Drupal CMS, and Flash ActionScript-based sites--they also provide logo and identity design, brand and online strategy consulting, copywriting, content strategy and search engine marketing services.
# # #