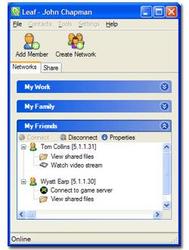 The connection individual users have with members of their networks is a direct connection; there is no 'middleman' or intermediary service or device between users and the members of their networks
Tempe, AZ (PRWEB) October 8, 2007
Leaf Networks, LLC of Tempe, AZ, a software company founded in 2005 by technology visionaries Dr. Jeff Capone and Pramod Immaneni, today unveiled the official public release of their "Leaf" network technology.
Leaf technology offers to fill a void that is often a problem for typical home and business computer users -- namely, the void between their private physical LAN network and it's devices, and remote users who aren't directly connected to their network but need to access those devices - be it a PC, Printer, even an XBox.
"Most people use one of two networks to access information and services, namely the public Internet and their private home or office local area network (LAN)," explains Dr. Jeff Capone, Founder and CEO of Leaf Networks. "For most users, the use of these networks has remained distinct."
However, as more devices are networked, there is an increasing interest in sharing these devices and services provided through them with users not connected to the LAN.
"Although VPN (virtual private network) technology has existed for some time, it has typically required the use of central servers, routers, and complicated software which simply isn't practical for your average home or business computer user," Dr. Capone continues.
Not so any longer, says Leaf Networks. Their Leaf software, which resembles something a long the line of an instant messenger client, is bringing network and device sharing to the masses.
After a quick (and free) download of the Leaf software from the company's web site, users are free to create "networks" of Friends, Co-Workers, Family, and so on.
Next, users simply add other Leaf users to their networks -- again, a process reminiscent of your favorite IM client -- and in an instant are free to access, and to share, nearly any device attached to the other users' in-home or in-office network as well as to grant other users access to their own local devices.
The possibilities are truly endless as more and more consumer technology becomes "network attached" -- from DLNA and DVR devices to game consoles, media centers, storage devices, and of course PC's, printers, and other peripherals. Any of these devices can be shared between users of Leaf almost instantly. Further, Leaf truly is "consumer friendly", requiring no knowledge of networking technology and allowing the typical, everyday user to begin using a Leaf network within minutes of downloading the software.
"The practical use of Leaf Networks is almost limitless," Dr. Capone says. "Users of Leaf Networks' service will be able to engage in activities outside of the constraints of their physical LAN environment."
"For example, you may want to save files on your PC to a co-worker's NAS (network attached storage device), watch a video off your home media center on your friend's TV, share a printer with a neighbor, save pictures of your family directly onto your parents' PC, play XBox head-to-head with a classmate, access important files from your home PC while on the road….all this and more is possible with Leaf Networks," Dr. Capone continues.
A New Technology
There are many products on the market today that allow you to stay connected to your files on your home PC or gain access to a remote PC, most notably, Avvenue, TubesNow and GoToMyPC.com. However, these applications do not allow you to share your networked devices with other users across the internet. Moreover, most of these products only allow you to publish your documents and do not allow you to push files out and save them on remote machines.
Likewise, There are many peer-to-peer products on the market today that offer new and exciting services for broadband users, namely, Nutella, Bitorrent, Skype, Avvenue, Joost and more. All of these applications create an overlay network using the internet, but are designed with a very specific application in mind. For example, a Bittorent network is designed for public file sharing and requires that multiple instance of the same file exist throughout the overlay network -- not very useful if you want to share a Word document with a co-worker. Skype is designed for point-to-point voice calling and is not very useful if you want to play PC LAN games with multiple friends. Joost is designed for multicasting videos, but can not be used to remote desktop into a remote PC. Leaf Networks software creates a true personal local area network that is fully connect so any networked device or application can easily operate.
The unique, patent-pending technology used by Leaf Networks allows you to create your own personal networks without the need to configure firewalls or routers; that means no matter where you are - hot spot, hotel, café, work - you can still be in the network. Once your personal Leaf Network is formed, your network devices can be shared using one of many plug-ins offered by Leaf Networks. These plug-ins bridge network devices between two or more networks without the need to modify these networked devices. These devices see each other and can communicate directly, just like they were on the same local area network.
"The connection individual users have with members of their networks is a direct connection; there is no 'middleman' or intermediary service or device between users and the members of their networks," says Dr. Capone.
A Bright Future
Although only now announcing the first commercial release of Leaf, the product has been in beta for over nine months and has attracted tens of thousands of users who have provided valuable feedback prior to release of the product. The company is in talks with major device manufacturers and OEMs to embed Leaf technology into the next generation of networked devices including home routers, gateways, network-attached storage and digital media receivers.
About Leaf Networks:
Leaf Networks™ is the Global Virtual Network Provider that is changing the way people use networks and networked devices, such as game consoles, media centers and servers, printers and network storage devices. Leaf Networks offers consumers a free service that gives them the ability to easily form secure private networks and bring together networked devices with other members of their network. The free software can be downloaded from the company's website, located at http://www.leafnetworks.net.
Leaf Networks was founded in 2005 by Dr. Jeff Capone, CEO and Pramod Immaneni, CTO. The company's focus is the development and commercialization of its patent-pending "Leaf" network technology. The company is privately held and headquartered in Tempe, Arizona.
###