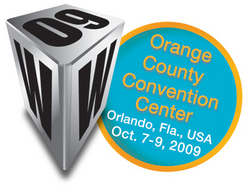 Each year CORT looks forward to World Workplace as an excellent opportunity to connect with customers and share our ideas about how we can help alleviate the day-to-day challenges facility managers face through flexible management of furniture inventory, business continuity planning and support for a mobile workforce
Houston (Vocus) September 25, 2009
The International Facility Management Association's World Workplace 2009 Conference & Expo is a multi-national, multi-disciplined discussion on workplace challenges, trends and best practices that will highlight the new products and services impacting the workplace throughout 2010 and beyond.
Recognized as the world's premier educational and networking conference for facility professionals, World Workplace 2009 will head to Orlando, Fla., Oct. 7-9 and bring industry leaders from the world's top business and government organizations together with educators and exhibitors to focus on the future of the work environment.
In addition to a conference consisting of more than 75 educational sessions and a keynote presentation by esteemed author and green business expert Andrew Winston, the event will feature an expo with more than 250 exhibiting companies, including 3M, ARAMARK, IBM, Lowe's and UGL Unicco. This year's expo will, for the first time, be freely open to the public and provide exhibitors and attendees 11 total hours of interaction on Wednesday and Thursday, Oct. 7-8.
The World Workplace expo will open at 11:30 a.m. on Wednesday, Oct. 7, with Winston signing copies of his book "Green to Gold: How Smart Companies use Environmental Strategy to Innovate, Create Value and Build Competitive Advantage."
Also being held on Wednesday will be the first-ever IFMA Tweet-Up at 1 p.m. in the World Workplace Park on the expo floor. The event will allow those who have previously connected on Twitter to meet in person and learn more about the association's social media efforts.
Taking place on the expo floor throughout the afternoons of Wednesday and Thursday, Oct. 7-8, will be Solutions Arena educational presentations and product demonstrations from companies including ARCHIBUS, Fellowes and Grainger. Topics will include energy efficiency, techniques for protecting your business from workplace data breaches, and methods for cutting facility costs and increasing productivity.
Thursday will also feature an appearance by former Harlem Globetrotter Tommy Mitchell, father of IFMA Board of Directors Chairman Thomas L. Mitchell Jr., CFM, CFMJ. The former basketball star will be signing autographs in the IFMA Central booth beginning at 1 p.m.
Another one of the highlights of the World Workplace 2009 expo will be the Green Zone, an exclusive section of the expo floor reserved for companies offering environmentally friendly products and services. More than 75 exhibitors will be featured in the Green Zone this year, including organizations such as the Alliance for Sustainable Built Environments and the U.S. Department of State, as well as companies including AT&T, Bentley Prince Street, CORT, Kimball Office and Kohler.
"Each year CORT looks forward to World Workplace as an excellent opportunity to connect with customers and share our ideas about how we can help alleviate the day-to-day challenges facility managers face through flexible management of furniture inventory, business continuity planning and support for a mobile workforce," said Paula Green, vice president of national accounts for CORT. "The conference is also an important time for us to meet with our peers and learn about the latest solutions for improving the work environment."
"World Workplace is the perfect place for us to spend time with facility managers as we work to collaborate with our customers in our product collections," said Anthony Minite, president of Bentley Prince Street. "Customer partnerships are how we do business, and this conference is a great opportunity to hear what's important to them, what works and what doesn't, so we can deliver total solutions that perform for every environment."
This year's World Workplace expo will host popular attractions including Chrysler's Global Electric Motorcars and Steelcase's Walkstation. Chrysler's GEM cars are 100 percent electric, street legal vehicles that achieve speeds up to 25 miles per hour and go 30 miles per charge. Steelcase's Walkstation, on the other hand, is a fully integrated, height-adjustable work surface combined with a low speed commercial grade treadmill that allows users to burn calories while they work.
To learn more about the World Workplace 2009 expo, or for a complete list of conference details, visit http://www.worldworkplace.org . Members of the media interested in attending World Workplace may register at no cost here.
IFMA's World Workplace Conference & Expo is an annual three-day educational and networking event focused on the future of the built environment. Building on the professional development opportunities available through the association year-round, the World Workplace experience includes a conference focused entirely on education and an exposition incorporating product demonstration and instruction. This year's conference will be held Oct. 7-9, 2009, at the Orange County Convention Center in Orlando, Fla. For more information, visit http://www.worldworkplace.org . To join and follow IFMA's social media outlets online, visit the conference's NETworkplace page.
# # #