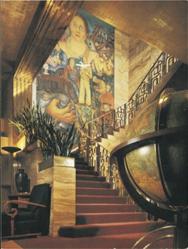 Don't miss this rare opportunity to hear eleven of the San Francisco mayoral candidates discuss the issues
San Francisco, CA (PRWEB) October 04, 2011
With the election only a month away, the San Francisco mayoral race is heating up as candidates vie for The City's top spot. On October 10th, eleven of the candidates will gather to debate the issues at the historic City Club. The "Real Deal" Debate is part of the City Summit series, sponsored by The City Club of San Francisco, San Francisco Chronicle, SFgate.com, KCBS and KPIX. The debate will be followed by an hors d'oeuvres and drinks reception, allowing guests to enjoy the elegant downtown art deco treasure, which is full of historic artwork, including Diego Rivera's first fresco.
"Don't miss this rare opportunity to hear eleven of the San Francisco mayoral candidates discuss the issues," said Michelle Kimmins, Director of Sales and Catering at The City Club.
The candidates attending the debate include Jeff Adichi, Michela Alioto-Pier, John Avalos, David Chiu, Bevan Duffy, Tony Hall, Dennis Herrera, Ed Lee, Joanna Rees, Phil Ting, and Leland Yee. The doors open at 5:30, and the debate starts at 6:00. At 7:30, the reception begins. Guests may register for $45 ($35 for City Club members) at http://citysummit1010.eventbrite.com/. Seating is limited.
Live streaming of the debate will be available on the KCBS and CBS 5 website, http://www.cbssf.com, and on SFGate, http://sfgate.com/. Coverage and clips of the debate will air on KCBS All News 740 AM/106.9 FM and on CBS 5.
The mayoral debate is one of many community service activities sponsored by The City Club, which is dedicated to providing a forum for discussion of events that affect San Francisco and its residents. Many Club members are luminaries in local business, government, and community organizations.
With multiple rooms available for 2 to 220 guests, The City Club of San Francisco is as intimate as it is private. The San Francisco networking event, wedding and private party venue is located on three floors of the historic Stock Exchange Tower overlooking the San Francisco Financial District at 155 Sansome Street, between Pine and Bush.
For more information about the "Real Deal" mayoral debate or any of the City Club of San Francisco's services, please call (415) 675-1549 or visit cityclubsf.com online.
About The City Club of San Francisco
The City Club of San Francisco is a private club and party venue that plays host to elegant San Francisco corporate events and personal gatherings. The City Club specializes in undeniably San Francisco wedding receptions, rehearsal dinners, bridal and baby showers, corporate events and meetings, awards dinners, seminars, workshops, retirement parties, anniversary parties, birthday parties, Bar/Bat Mitzvahs, alumni receptions, bereavement packages, social galas, holiday parties and fundraisers.
In addition to its own world famous art and architecture, The City Club actively promotes the art and culture of San Francisco through collaboration with premier arts and cultural organizations to bring unique programs to the Club and its membership.
City Club members include business, government and community leaders who are actively involved in San Francisco and Bay Area civic affairs. One of the ways that The Club actively supports these activities is by providing a public forum to civic and business leaders to discuss events affecting The City and its people.
# # #